Last Updated on November 21, 2022
A clutch master cylinder links your left foot to the clutch in a three pedaled vehicle with a hydraulic clutch. If the master cylinder has completely failed, it will likely leave you stranded, unless you can figure out a way to limp home without the use of the clutch. This is especially dangerous if the brake and clutch share the same reservoir, as you could be left without brakes as well.
Fortunately, the most common failure mode of a clutch master cylinder is leaking clutch fluid, which may give you some early warning signs before the system fails completely.
Need help with a car problem RIGHT NOW?
Click Here
to chat online with a verified mechanic who will answer your questions.
How a Clutch Master Cylinder Works
Modern vehicles with a manual transmission use hydraulic fluid (usually brake fluid) to transfer the movement of the clutch pedal into an actuation of the clutch fork. When you depress the clutch pedal, a rod attached to the clutch pedal assembly pushes on hydraulic fluid in the clutch master cylinder.
Since this fluid is not compressible, it is forced to travel down the clutch lines to the slave cylinder, which is attached to the clutch fork. The clutch fork forces the clutch to separate from the pressure plate and flywheel, allowing the engine and wheels to spin independently.
See Also: Common Causes of a Manual Transmission That's Hard to Shift
Top 4 Bad Clutch Master Cylinder Symptoms
Here are four of the most common signs your clutch master cylinder is starting to fail or has already completely failed. Note that the following are likely only helpful if you have a hydraulic clutch problem, and don't apply to a cable operated clutch system.
#1 – Low Clutch Fluid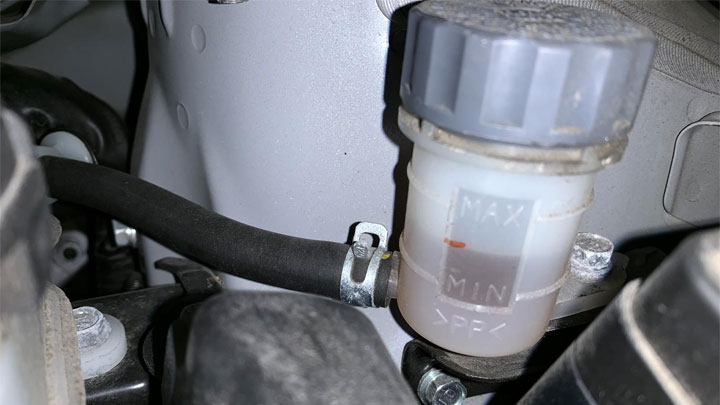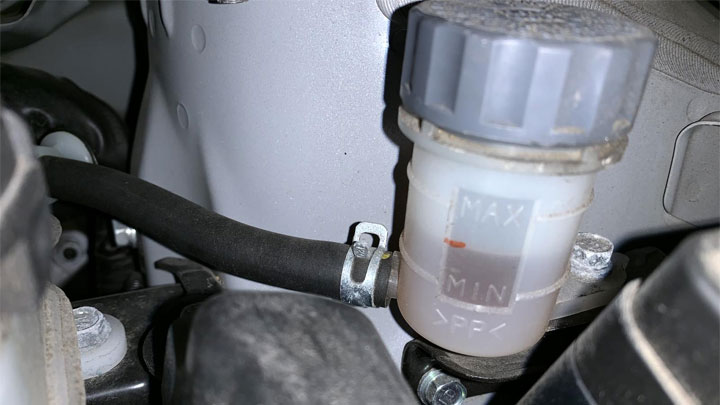 A clutch master cylinder will have low and high marks on the side of the reservoir indicating a safe volume of clutch fluid. If your clutch fluid level falls below the low mark, it's time to top up. The reservoir cap or owner's manual should tell you what type of fluid to use.
Once you top up your clutch fluid, keep an eye on the level. The clutch fluid level should not drop over time like you might see in brake fluid. Brake fluid level drops over time because the brake caliper piston extends further as your brake pads wear, but the clutch does not operate this way.
A chronic loss of clutch fluid is indicative of a leaking clutch master or slave cylinder.
#2 – Soft or Spongy Clutch Pedal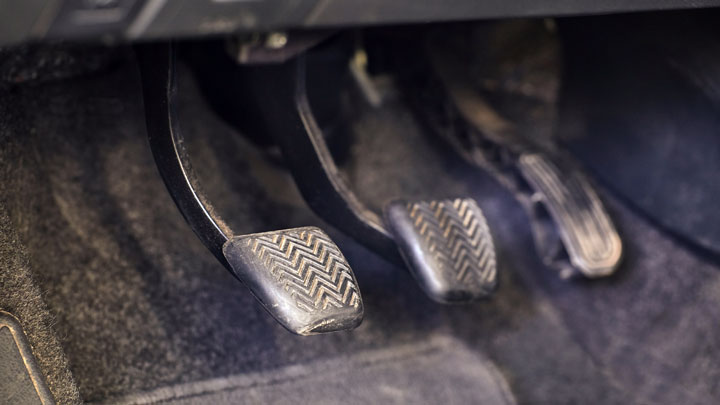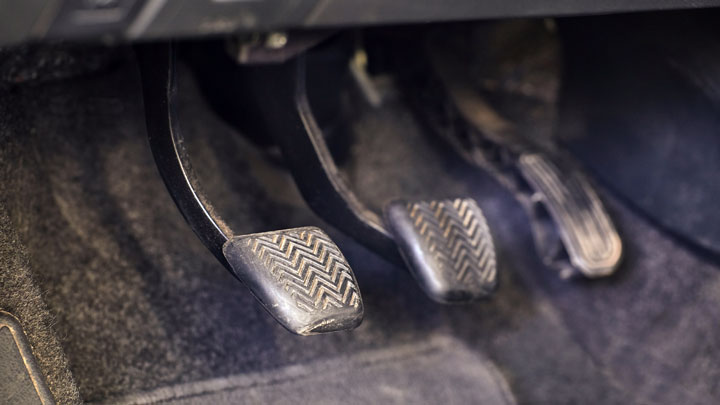 Have you noticed your clutch pedal feeling a bit lighter and easier to depress than it used to? Unlike clutch fluid, air is compressible. If you have air in the clutch master cylinder, the pedal will start to feel very soft, even if the clutch seems to work perfectly.
Try bleeding the clutch to resolve the problem. If the issue returns after a bit of time has elapsed, the clutch master cylinder may be at fault.
See Also: 5 Signs of a Slipping Clutch
#3 – Engagement Point Suddenly Changed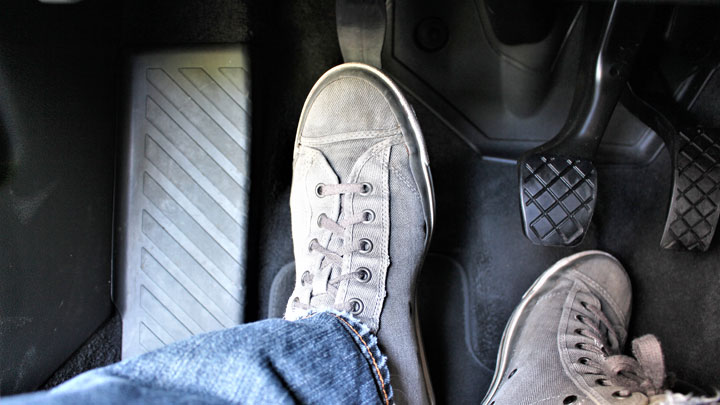 On your way to work one morning, you almost stall a couple times and can't seem to get the car moving without jerking all over the place. You swear you know how to drive stick, maybe you're just tired.
If this has happened to you, it might be a good idea to pop the hood and check the clutch fluid level.
If the clutch fluid reservoir is empty, there may be a tiny bit of fluid left in the lines to keep you going, but you'll definitely notice a difference in clutch engagement, if you're even able to get it into gear at all.
The clutch will engage right off the floor and very abruptly in this situation.
Related: How to Adjust a Clutch Pedal on a Car
#4 – Dark Clutch Fluid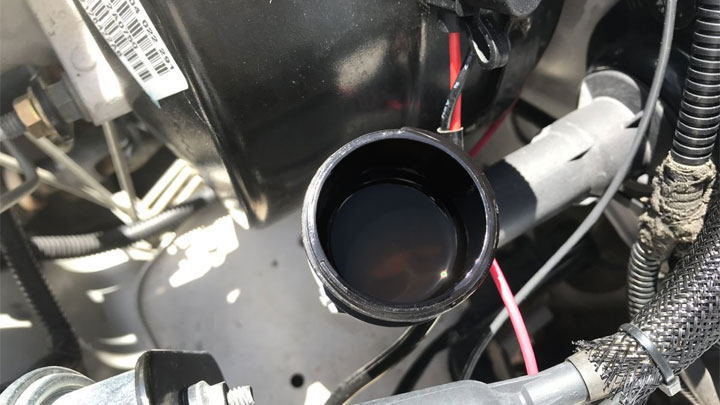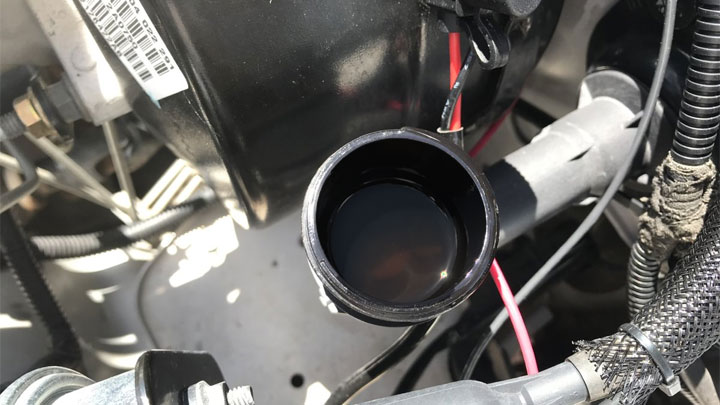 If you've changed your clutch fluid recently but notice it's suddenly become very dark, one of the internal seals in the clutch master cylinder may be failing. Bits of rubber in these seals can break down and contaminate the clutch fluid, very quickly discoloring the contents of the reservoir.
If you haven't changed your clutch fluid recently, check your owner's manual for the recommended maintenance interval. The proper way to change clutch fluid is to flush the system with fresh fluid, bleeding the clutch lines in the process.
However, you could also try the following as a quick and dirty test for a failing seal since clutch fluid is cheap:
Suck the old clutch fluid out of the reservoir (using something like a turkey baster, for instance).
Top off the reservoir with fresh fluid.
Wait a couple days to see if the new fluid turns dark.
If your fluid gets dark within a couple days, it is likely you have a failing seal in the clutch master cylinder, especially if you exhibit any other symptoms listed above.
Clutch Master Cylinder Replacement Cost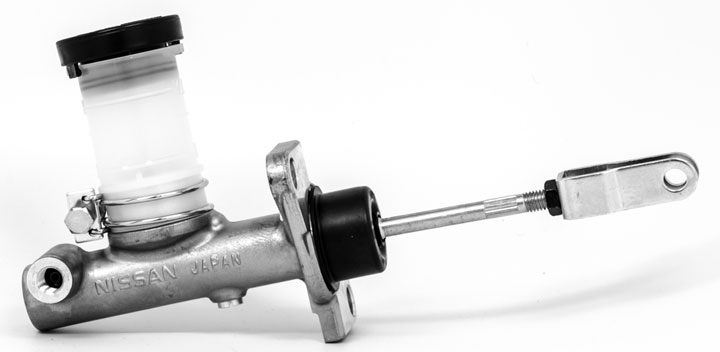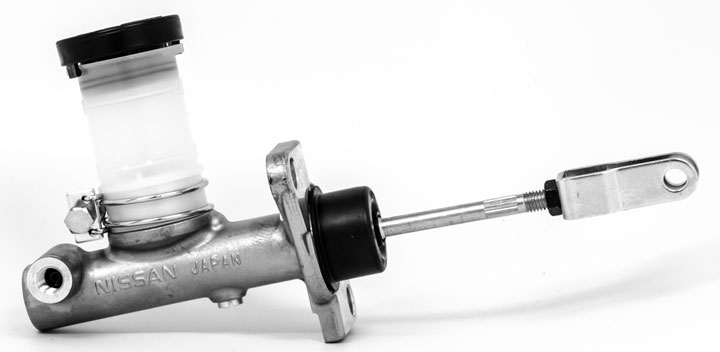 Depending on the vehicle, replacing the clutch master cylinder is often fairly cheap and easy. It is even possible for most home mechanics to tackle this job themselves.
In some vehicles, all that is needed is to buy a new clutch master cylinder, unscrew the clutch line, unbolt the clutch master cylinder from the firewall and install the new unit (reverse the procedure).
If having a professional replace your clutch master cylinder, expect to pay somewhere in the range of $180 to $420 total.
Parts will usually cost $100 to $300. It shouldn't take them more than an hour to replace the cylinder so you're looking at $80 to $120 for labor in most cases.
Note: It is often recommended to replace the clutch slave cylinder at the same time as the master cylinder. When one of these parts fails, it's often the case that the other part follows suit soon after.
Some clutch master cylinders can be rebuilt to cut costs. Most units are supposed to be bench bled before installation. The clutch pedal will likely need adjustment after replacement of the clutch master cylinder. Consult your specific vehicle's factory manual for more information.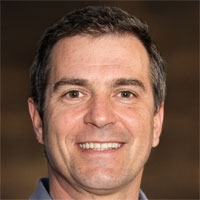 Latest posts by Mark Stevens
(see all)