9 Best Car Covers for Hail, Snow, and Ice Protection
Note: This post may contain affiliate links. This means we may earn a small commission for qualifying purchases at no cost to you.
Protecting your vehicle from damaging hail, snow, and ice isn't easy without garage storage. A heavy-duty car cover shields against dents, paint scratches, and other harm from harsh weather. But with so many options (some worthless), choosing the right cover is tough.
However, based on firsthand experience with many of these products, we have put together the following list of best car covers that not only protect again hail, snow, and ice, but also from tree sap, bird droppings, water spots, and even the neighbor's cat.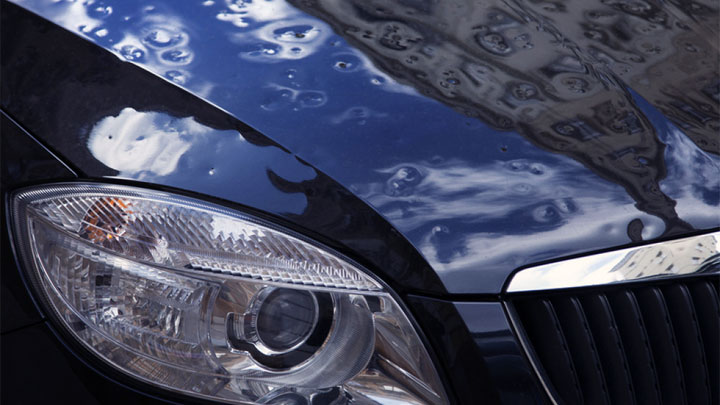 Top Hail-Proof Car Covers
To come up with these options, we made sure to look over every detail of each product. We wanted to be sure that the car covers all offered protection for various weather conditions, allowed for an accurate fit, and offered a good overall value. Based on our observations and experience, here's what we recommend: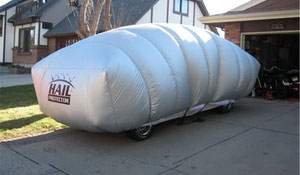 For the absolute best protection against hail damage (even Texas-sized hail), the patented Hail Protector system is unbeatable.
Instead of simply being draped over your vehicle, Hail Protector inflates around your vehicle to provide thick cushioning that not even softball-sized hail can get through. It installs in as little as 5 minutes (after the initial trial run) and fully inflates in ~5 minutes using one of the three included power sources (AA battery pack, cigarette lighter adapter, or normal AC adapter.
With the included iPhone and Android app, you'll get advance notification of a possibility of hail storm so you can get it quickly set up. Then simply hit the button on the remote control to start the inflation process.
This inflatable hail protector for cars and trucks is available in 6 sizes according to vehicle length for a proper fit instead of a one-size-fits all approach. But yes, your neighbor with the Fiat 500 is going to pay less than you and your Ford F-250.
Sure, it's more expensive than normal car covers and makes your vehicle temporarily look like the Stay Puff Marshmallow Man but after trying out Hail Protector, we decided that it flat out works and is well worth the money. You won't have to fight with your insurance company to cover damage from hail and you can rest easy your precious car, truck, or SUV is protected when you don't have access to a garage.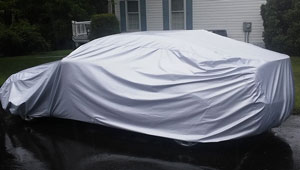 CarCovers.com is one of the most well-known brands in quality vehicle covers. While they have a few different styles, their Platinum Shield cover is their top-of-the-line cover. This car cover provides you with superior protection thanks to the platinum all-weather UV treated fabric. You'll get a guaranteed fit and a lifetime warranty.
Not only will it keep your car, truck, SUV, or motorcycle free from snow, ice, and most hail damage, but you can also trust it to protect against dirt, sun, and Fluffy the cat from next door. After multiple uses, we've determined that for overall protection, fit, and ease of use, this is one of the top outdoor car cover on the market.
If hail protection is your biggest concern, go with the Hail Protector. But for most everyone else, this is the cover to get.
The reflective cover material has a polyurethane coating to allow rain to roll right off. It has ultrasonically welded seams for tight protection and reinforced grommets for durability. Plus, the fleece lining ensures no scratches in your paint when putting it on or taking it off.
In addition, it comes with a free storage bag, lock, and antenna patch. The optional wind protector straps (also available on Amazon) keep it fitting tight to avoid issues due to strong winds.
What we love about CarCovers.com is their level of customer service that you can't get from Amazon or other large retailers. You'll get the perfect fit (simply select what vehicle you have), fast and free shipping, and US-based customer support anytime you need it.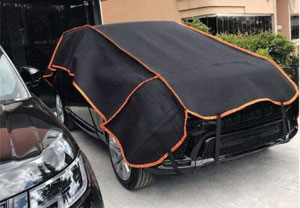 Made for larger vehicles including SUVs and large sedans, this 600cm (~20 ft) car cover features an inner material that is 6 mm thick. It also has three laminated protective tiles and uses an ethylene-vinyl acetate material. While it's not cheap, Altindal's cover offers some of the better protection against hail and other severe weather.
Other interesting aspects of this cover is that it is recyclable, impact-resistant, and bacteria proof. The flexible material is easy to put on your vehicle with minimal hassle.
The manufacturer guarantees protection against up to 70% damage from hail, snow, and ice. It may not completely cover a full-size truck, even in the largest 23′ size, leaving the tailgate exposed. We found the material to be quite thick for a car cover and its overall weight is manageable. This hail protector is also available in a smaller 500cm (~16.5 ft) size intended for most sedans.
It does have an air-resistant design with special stabilizer hooks. However, you shouldn't leave this in the sun because it can damage it and weaken its ability to offer protection.
See Also: Truck Bed Sizes and Cab Types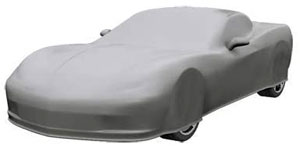 The CoverMaster covers are some of the most highly regarded vehicle covers out there. Their Gold Shield covers feature three layers of material to provide a watertight fit. The inner layer is a soft fleece to protect your paint. The middle layer is breathable to stop oxidation.
CoverMaster car covers are custom fit so while the link above is specifically for a Corvette (C4 through C7), many other sizes are available including: Ford Mustang, Dodge Challenger, Jeep Grand Cherokee, Toyota 4Runner, Cadillac Escalade, and others.
These covers are wind, ice, snow, rain, and hail proof and can withstand extended sun exposure. They have an exceptional fit that ensures a seal over your vehicle for the ultimate in protection.
With your purchase, you get a free lock and cable for good basic security if you park in a questionable area or have other concerns about your vehicle's safety when covered. You also get an antenna patch and storage bag. Plus, the manufacturer provides a lifetime warranty, making this one of the best values on our list.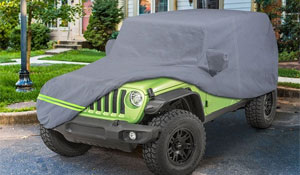 Getting a properly fitting car cover for your Jeep Wrangler isn't as easy as you'd think due to its unique shape. But with sizes covering both 2-door and 4-door versions of 1987 to 2022 Wranglers, you can expect true all-weather protection as this cover can stand up to wind, snow, ice, hail, rain, and UV rays.
It comes with an elastic edge all around the bottom and a strap and buckle to hold down the cover and keep the wind from ripping it off your vehicle.
The Jeep cover is a 3-ply fabric combined with a 6-ply top fabric for superior protection. The double-stitched seams ensure it stays airtight. Reflective stripes on both the front and back are a good safety feature if you park on the street. An included storage bag allows for easy storage when not in use.
Buying a Jeep Wrangler is not cheap, but you shouldn't have to pay a premium for a good-fitting and well-performing car cover for it.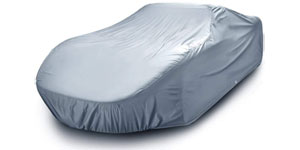 The all-weather iCarCover provides options for your truck, SUV, or motorcycle with 6 different size options (155″ to 235″). It will protect against water and weather conditions in both winter and summer.
Protection extends from the front to the back and the top to the bottom for a secure fit exceptional coverage. All this comes to you with a guaranteed seven-year warranty with a refund option.
While it stands up to the sun rays, it also ensures moisture stays outside as it should. The breathable UV layer and tough outer layers provide the ultimate security for your vehicle. The soft inner layer will protect your paint from scratching.
The iCarCover is also windproof thanks to the included straps. You also get an anti-theft device and storage bag with the purchase. In addition, for an accurate fit, it comes with a grommet and antenna patches.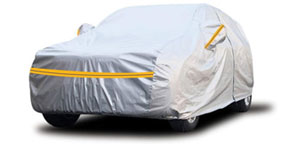 The six layers of the Autsop car cover provide your vehicle with all the protection it needs against snow, hail, dust, rain, and sun. Choose from 13 different size options for a good fit on almost any vehicle.
The padded car cover features premium materials that offer good hail protection. It is 100% waterproof and includes UV protection materials. The super thick nature means it can withstand a good amount of impact from hail and shake off anything the weather may throw at it. The downside of the excellent protection is that it may be a little heavy for some people.
The unique Autsop cover design features a zipper on the driver's side so you can quickly get into your vehicle without removing the whole cover. Not only is this convenient but it also limits wear and tear to the cover and lowers the paint scratch risk.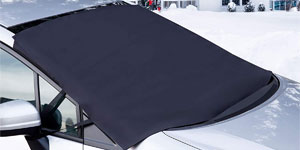 The OxGord windshield cover gives you inexpensive protection in all types of weather where you need it most. The design helps it provide a universal fit no matter what kind of vehicle you have. It is the ultimate in winter protection with thick fabric that can withstand heavy snow and ice and the impact of hail.
The frost guard feature comes from the thermal shield. It traps heat inside the cover to melt ice or snow on the outside. It also protects against windshield frosting. For colder climates, it's a huge time saver in the morning if snow or freezing rain falls overnight.
Available in both front and rear windshield applications, it will stay tight even in high winds. With easy magnet-free installation, you can quickly put the OxGord cover on or take it off as needed. The side panels close inside the doors for simple theft protection.
See Also: Sunroof vs Moonroof (What's the Difference?)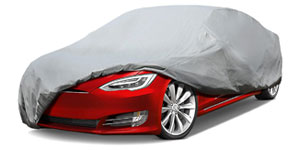 If you need a car cover that's soft and flexible yet offers seven layers of protection, then consider this one. The Platinum Guard car cover consists of four layers of special material made from polypropylene, two UV layers, and a layer of cotton for a thick protective cover that will stand up in all weather.
You can use it indoors as well as outdoors. It helps to keep away dust as well as weather for the ultimate in paint protection. The Platinum Guard cover is also windproof, which means you can leave your vehicle outside without worries, even in intense storms.
The cover features an elastic hem for the tightest fit, but do be aware that it does not stop moisture build-up, so you need to remove the cover regularly to ensure no mildew growth. It comes with a storage bag and antenna patches. While it likely won't prevent damage from large hail, it's a good inexpensive option from small hail and other common weather elements.
Car Cover Buying Guide
Before you rush out to buy the first car cover you come across, take a few moments to consider some key points about car covers for hail protection. The information you learn can help ensure you buy the right cover and get the best possible experience with using it.
Types of Car Covers
Car covers can come in a variety of styles that affect the type of fit you get.
Generic fit are those covers made large enough to fit on a range of vehicles. These generally are best for basic coverage and won't work well in heavy storms and wind. They also are not ideal for smaller vehicles or motorcycles because they will be too big.
Custom-fit covers are probably the cream of the crop because they allow you to order a cover made specifically for your vehicle make and model. Car Care News Service states that a tight fit that will sit properly on your vehicle with no overhang or exposed areas to provide the highest level of protection from the elements.
Portable car covers are often light in weight and meant to be something you take off and on regularly. Because they are light, you may not get complete protection against harsher weather, such as hail or ice. These covers generally work well for dust protection and can help protect from water and sun.
Inflatable car covers, as the name suggests, blow up to fit your vehicle. A good example of an inflatable car cover is the Hail Protector. They can provide excellent coverage, but they require a constant flow of air and electricity for set up. You couldn't use this type of cover away from a garage because of this (unless it has multiple power sources).
Umbrella car covers are like a tent that goes over the car. They usually have durable fabric and offer great protection from wind. The downside is they don't cover your whole vehicle, so they only provide basic protection. But they do the job if your vehicle is prone to interior water leaks.
Material
Car covers typically are heavy materials with certain features that help make them resistant to water and impact. The outside fabrics may also have UV protection so that the cover won't break down when sitting in the sun for long periods. The outer materials generally have waterproofing as well.
The inner fabric of a cover is most often a soft fleece. This helps protect against scratches on your vehicle's paint. The inner material may also have unique properties that help it to breathe to prevent moisture build-up.
Can a Car Cover Damage Your Paint?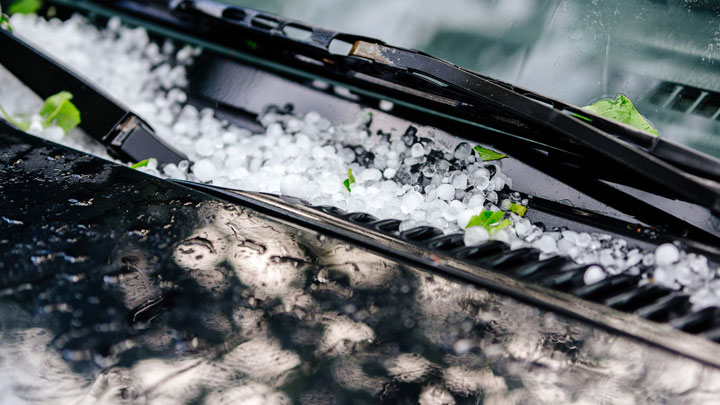 Using a car cover can damage your paint, but according to Motor Biscuit, it depends significantly on the way you use your cover and how well of a job you do paying attention to installation instructions. The biggest reason for scratches is putting a car cover on a dirty car.
The dust particles or other surface contaminants on your vehicle will scratch the paint if you lay anything on top of them. For this reason, you should always wash your car before you put on the cover. If storing for an extended period, detailing (including wax or ceramic coating) is recommended.
See Also: 6 DIY Auto Detailing Tips
In addition, scratches can happen if the cover has grommets. You need to be careful when installing them and make sure that they do not rub against your vehicle.
Wind is another culprit. If the wind whips the cover around, it can scratch against your vehicle. Furthermore, if the wind can get under the cover, so can dust, which as you know, can cause damage. You can easily prevent this by using wind protector straps.
Also, if moisture gets under your car cover, it can lead to damage to your paint. It may not scratch it, but it can make it start peeling and cause fading.
Can You Put a Car Cover on a Wet Car?
You should let your vehicle dry completely before putting on a car cover to avoid damage due to moisture. In addition, it could make your cover mold in certain situations.
Can You Wash a Car Cover?
Always look to the manufacturer's recommendations about the care of your car cover. However, you can wash most of them. Be cautious with washing too much as it can lessen the effectiveness of the cover and weaken the material.
What About Your Car Antenna?
Most car covers do not have a hole for the antenna. If you can remove or retract your antenna, then that's the best thing to do. However, most covers will come with supplies to create a hole for your antenna if you like. Make sure to follow the instructions for doing it to avoid damaging the cover or reducing its effectiveness.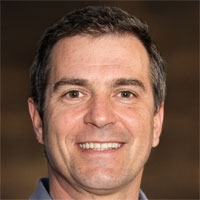 Latest posts by Mark Stevens
(see all)