19 Best Sports Cars Under $50k
You've always wanted a sports car. Something with feeling, soul, sound, and acceleration. Now, you've finally saved up enough to afford one and want to make the best choice possible.
For 2020 and into 2021, there are a lot of candidates worthy of your consideration. They are listed in no particular order along with their "starting" price.
Related: Why Are Jeeps SO Expensive?
Top Sports Cars Under $50,000
Mazda MX-5 Miata – $26,580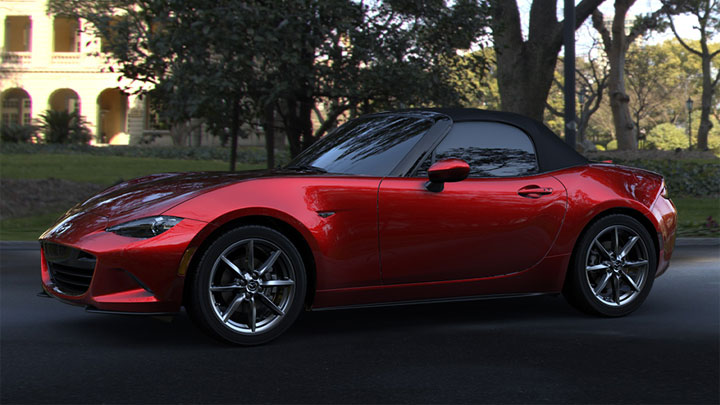 We know the Miata, we know it's the most popular sports car ever built, but Mazda has really knocked it out of the park this time around. For 2020, Mazda offers 181 horsepower in what is already a super-light package, so you'll be able to accelerate quicker.
Upon testing, the little roadster was able to scamper to 60 mph in a brisk 5.7 seconds. If you're wondering, that's usable acceleration that you can actually have fun with on normal, public roads…(I'm looking at you, Corvette)
With a generous powertrain warranty, 36-38 miles per gallon, enough space for you, your significant other, and some weekend gear, Mazda brings a ton of bang for your buck for 2020. But you already knew that, because they've been doing that for almost 100 years!
Audi S4 – $49,900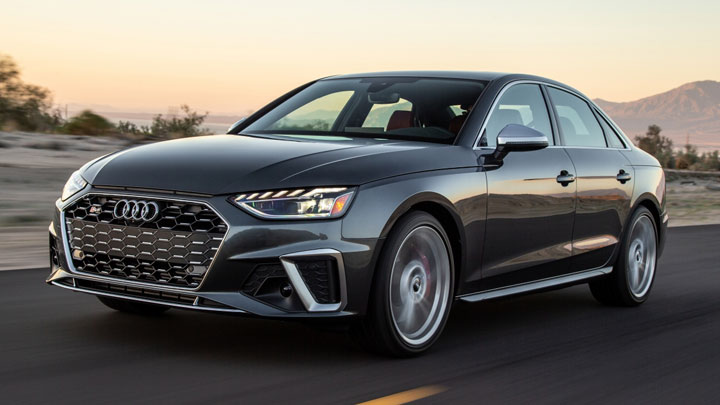 Audi, Audi, Audi…where do I begin? The paramount, prestigious, palatial, prodigy of the automotive world has dropped yet another luxury sedan for you to flog the ever-present, peasant road-sharers at every stoplight.
With a 0-60 of 4.3 seconds, the 349 hp turbo V6 is faster than a 370z, and can haul your in-laws in complete judgement-free, approving silence.
All jokes aside, the Audi makes you feel important and reminds you intermittently that there is a fire breathing, turbocharged monster clawing at the pavement in front of you. You work hard, so why not treat yourself to a high class sedan that can stomp on pretty much anything driving around today?
While it doesn't have available 4-wheel steering like its larger siblings, it has plenty of stability whether on the freeway or on city streets.
Alfa Romeo Giulia – $39,400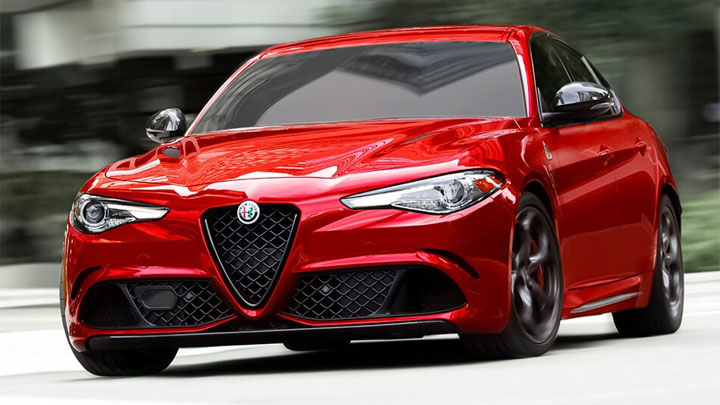 Did you say Audi? I think that means "Overweight Chicken" in Italian, or at least that's what Alfa's PR team told me.
Enter the Alfa Romeo Giulia, stage left. The front row can't keep their eyes off the artisan-molded bodywork, the flared fenders, and the sporty profile of this Italian sports sedan.
With the base model making 280 horsepower from an efficient 2.0 liter 4 cylinder motor, the Giulia RWD (rear-wheel drive) can propel you to 60 mph in just 5.5 seconds. Yes, it's the same as a Miata, but you'll be rolling around in luxury, with a little burble from the sport exhaust system the whole way.
And your in-laws? Yep, they're still in the back seat, but now speaking Italian which is somehow so much better.
See Also: Moonroof vs Sunroof
Volkswagen Golf R – $41,290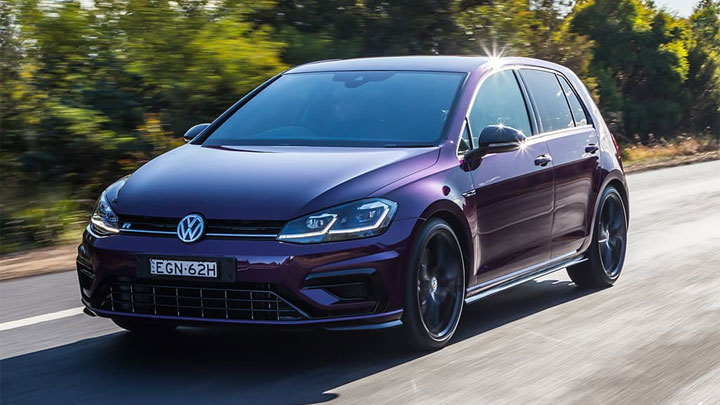 The Golf R has historically been the sensible higher-end hot hatch choice for those who want practicality, but also 4 wheel drive, a high-powered 4 cylinder that is fast as hell, but a car that doesn't get terrible gas mileage.
For 2020, VW has brought out more power from the 2.0 Inline 4, to the tune of 330 horsepower. This means you'll be able to get to 60 mph in under 4.5 seconds, which, like the others in this list, is very quick!
The Golf R won't have you leashed to the gas pump either, as it delivers 24 mpg city, and 32 highway… German Efficiency!
With a top speed of 167 miles per hour, this hot hatch is incredibly stable, Autobahn-tested, and is an awesome choice for those that don't really want to compromise on any level other than maintenance costs.
The 2020 Volkswagen Golf R is about as close one can get to having their cake and eating it too.
* Numbers for the Golf R are approximate as we anticipate its release in the US by end of 2020.
Related: All-Wheel Drive vs 4-Wheel Drive
BMW M240i Coupe – $45,800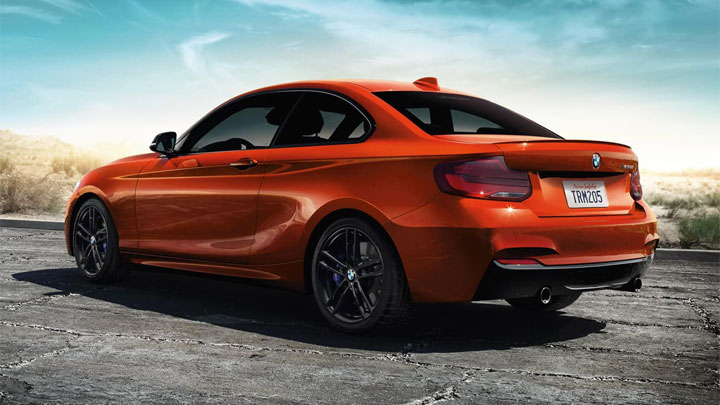 The Bavarian beastmaker, BMW, has always been known for making "Driver's Cars", and of course you can pick up something amazing for under $50k.
This example is the baby BMW M240i RWD, but don't call it "lil guy" as it will push you back in your seat with 380+ lb/ft of torque and can scamper to 60 miles per hour in under 4.3 seconds.
10 years ago, this quality of performance demanded proper money, and you needed to compromise on comfort, number of seats, and pretty much everything else to move your body that quickly! Now, BMW casually offers it in their entry-level chassis and it doesn't disappoint.
Yes, you'll be paying more in insurance, maintenance costs, premium gas, and of course wearing the "I drive a BMW" target on your back at all times, but those other cars are getting so much smaller in your rearview mirror, so do you really care?
See Also: What Does AMG Mean in a Mercedes-Benz?
Chevrolet Camaro 2SS – $43,995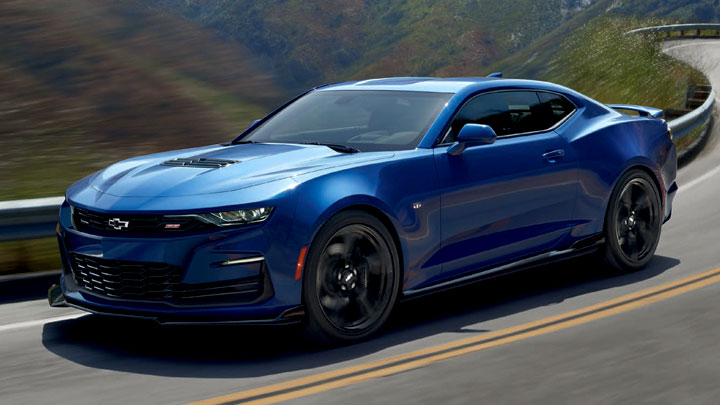 The domestic classic, further-refined by the suspension engineers at Chevrolet, makes a solid value proposition for your hard-earned dough.
Offering close to the most horsepower in this test (455), the Chevrolet Camaro 2SS gets you to 60 mph in 4.1 seconds. Even more so, the quality of that journey is furious, spitting, squealing, and downright intoxicating. It will make you understand why Bob in the lane next to you is driving like such a jerk.
"Oh, I get it" you'll say, " He has more horsepower than you could get 20 years ago for half the price, and he's loving every moment of it. Let Bob have his fun…be like Bob."
Ford Mustang GT – $37,320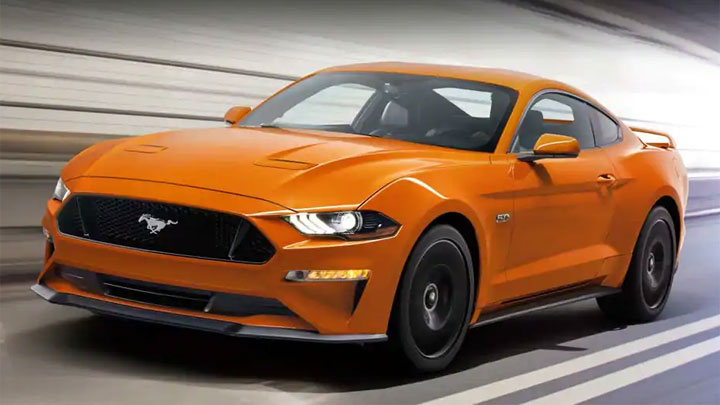 For about $5,000 less than the Camaro, you could pick up a 2020 Ford Mustang GT, with 460 horsepower available in an awesomely-appointed package.
The Mustang has been the spritely pony car of the bunch since it's introduction to the car world in the 1960s. While it has had to compete with safety regulations and the insane horsepower war that is ever-present today, the Mustang has still managed to eke out more power than the Camaro 2SS, and weigh less.
Given the power to weight ratio, the Mustang is faster than most to 60 (4.2 seconds), but is more refined, coming standard with CarPlay, Bluetooth, a touchscreen, and good 'ol American leather seats.
Ford's brand awareness must be the best in the business because, since the introduction of the Mustang in 1964, it has managed to stay squarely in the Fast, Nimble, and muscular car category. All this performance at a reasonable $37k, a powertrain warranty to boot, and you won't look back.
See Also: Ford AdvanceTrac Problems
Dodge Challenger R/T Scat Pack Widebody – $46,490
The snarling bull, complete with nostrils protruding from the hood, gets a new Widebody kit for 2020. This, of course, comes from none other than the 2020 WELTERWEIGHT CHAMPION OF THE WORLD, DOOOOOOOOOOODGE CHALLENGURRRRRRRR! [crowd screams, beer is thrown, good times are had]
Packing 485 buff ponies and a 6.4 Liter Hemi V8, the Dodge Challenger R/T has the most horsepower of these sub-$50k sports cars and owns every bit of it with a 0-60 of 4.3 seconds and 1/4-mile in the mid-12s. With improved chassis dynamics, the Dodge is a bit better around corners than it used to be, but is unabashedly the truest muscle car.
It has far too much power than one person could use, makes an awesome noise, goes like stink and looks insane while doing it. If you want raw, unadulterated muscle car ethos, go for the 2020 Dodge Challenger R/T Widebody Scat Pack.
See Also: V8 vs V6 (Which Should You Get?)
Infiniti Q60 – $41,350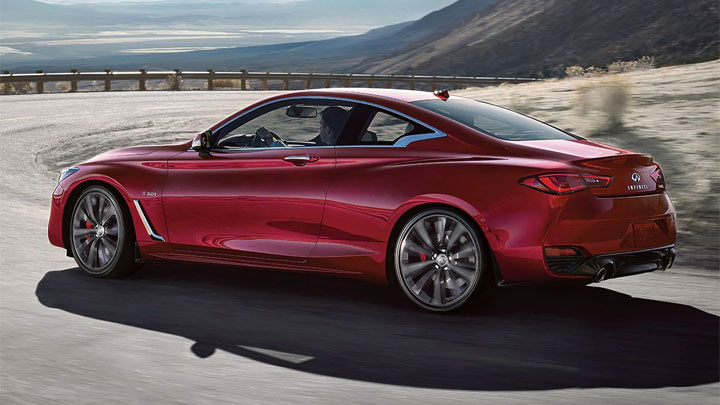 Diving into the luxury segment once again, the Infiniti Q60 brings to market an upscale look, a twin-turbocharged V6 that's good for 300 ponies, and an incredibly hard to use entertainment system.
While it does offer some of the best performance value in the high end sedan class, the quality of that performance isn't exactly what I want in a sports car. The power is definitely there (0-60 in 5.2 seconds), don't get me wrong, but it seems like, if you wanted to spend this kind of money on a luxury car, you could get a lot more performance with the M240i, for example.
While it may not be the best at comfort or performance, there are definitely buyers out there who would choose this quirky Infiniti Q60 over any car on the planet.
Tesla Model 3 Long Range – $46,990
Finally, the elephant in the room: The Tesla Model 3. The Lurking EV in the corner silently scans its surroundings, cooling its batteries before making the pounce on the competition.
With silent acceleration reeling in 60 mph in just 5.1 seconds, the rear-wheel-drive Model 3 long range is still faster than a Miata, Q60, and Veloster N all while delivering 85MPGe in real-world testing. (Tesla's numbers vary)
The car is silent, very roomy when it comes to weekend adventures, and safe with an extremely low center of gravity due to the low-mounted battery packs. In reality, this makes the Tesla Model 3 one of, if not the safest car on the road today.
All this with one caveat: we still haven't figured out a great long-range solution for these cars as Americans want their power now, and don't want to wait 30 minutes for their Tesla to charge at a supercharging station.
See Also: 13 Different Kinds of Car Doors
Playing the devil's advocate, if it only takes you 30 minutes to charge as opposed to 10 minutes to fill up your car with gas, is the difference in time worth expelling so many carbon emissions? All the while, the Tesla has Autopilot, night vision, and driver aids as standard so the quality of your road trip could be much less stressful in a vehicle like this.
With the only misgiving being range and the ability to travel large distances quickly, the Tesla Model 3 Long Range still manages to compete performance-wise with the rest of the fleet here.
*While the Performance model is definitely the fastest Model 3, it's outside of our range here and comes in at $56,000 on average.*
Related: 9 All-Wheel-Drive Cars That Get Good Gas Mileage
Subaru WRX STI – $36,995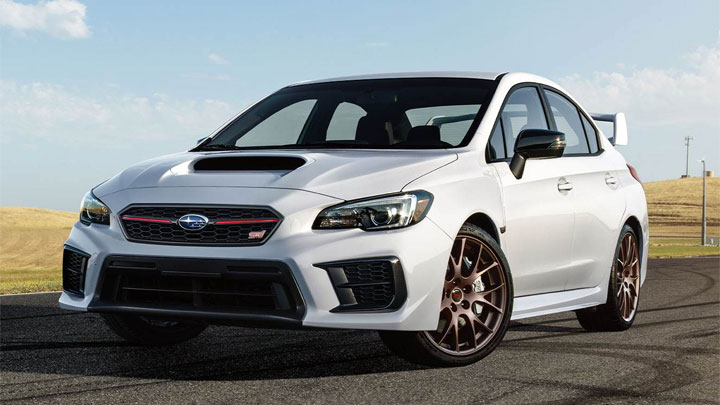 Rally car! Bro, you take that thing off any sweet jumps? Breh, of COURSE this thing is good in the snow…
We get it, you're a Subaru guy, and behind all of the Monster, vape juice, and mud flaps, you're a car guy to the core.
The people who buy Subaru WRX STI's don't want to skimp on quality, maintenance costs, and performance. With 310 horsepower on tap and a 4.6 second 0-60 time, this beast is quicker than quick, and tougher than an Audi. (sorry I had to)
While there's a big turbo, and the car will cost a bit more than a stock Impreza, you'll be smiling ear to ear as you rocket up the mountain pass in a blizzard off to snowboard Vail. You'll pass that Audi S4, that Mercedes 4matic with a smile on your face leaving the Boxer 4 spitting exhaust notes and rooster tails behind you the whole way.
Subaru has been building these consumer rally cars for over 20 years and, although the bare bones rally formula hasn't changed, they have refined the concept so well it's hard to think of another vehicle for the price and performance.
See Also: Best Tire Brands and Tire Recommendations
Toyota 86 – $27,060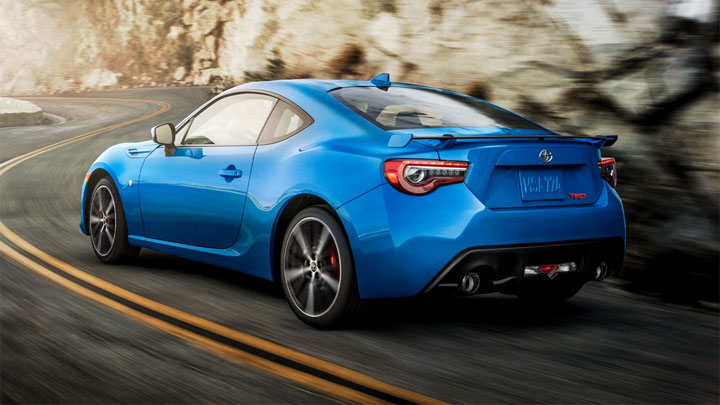 The spritely homage to the AE86 Hachiroku of the 1980s hasn't changed very much for 2020, with rumors of a redesign on the horizon. That being said, it's still a good option for the money, if speed isn't your one reason for choosing a sports car.
While acceleration isn't the 86's (or its twin Subaru BRZ's) strong suit, it still happens in 6.4 seconds, propelling the 2,800 pound featherweight to a 140 mph top speed. The other cars in this comparison can go faster, and even the 2020 Mazda Miata can go faster and deliver better gas mileage, but it won't carry as much weekend gear.
I won't be every other journalist and ignore the power gap and focus on the chassis because, let's face it, the 86/Subaru BRZ needs 50 more ponies to hang with the current sports car offerings. It truly has a nimble chassis, and a crisp transmission; it just needs a turbo and it would be perfect!
Toyota Supra: $49,990
What a way to bring in 2020, Toyota! The Supra definitely surprised everyone in the automotive world after almost 10 years of teasing, and after the "Oh bro it's just a BMW" complaints died down, Toyota was allowed to let the proof lie in its proverbial "pudding."
Throwing down actual 335 hp and 430 lb/ft dyno numbers, the 2020 Toyota Supra throws down 60 mph in just 3.8 seconds which embarrassed many a competitor in this review. With a chassis designed by BMW, the supra can hang in the corners as well, consistently rewarding the driver with feel and grace.
Delivering 31 mpg highway and 24 mpg in the city, the Supra won't be hard to live with day to day. That is, once you've paid off the vehicle in full, it shouldn't cost you too much more.
Further, Toyota offers a 5 year, 60,000 mile powertrain warranty for all the incidentals that could come up in your first couple years of ownership. Though there shouldn't be any maintenance issues, it is a BMW after all, right??
Nissan 370Z NISMO – $45,790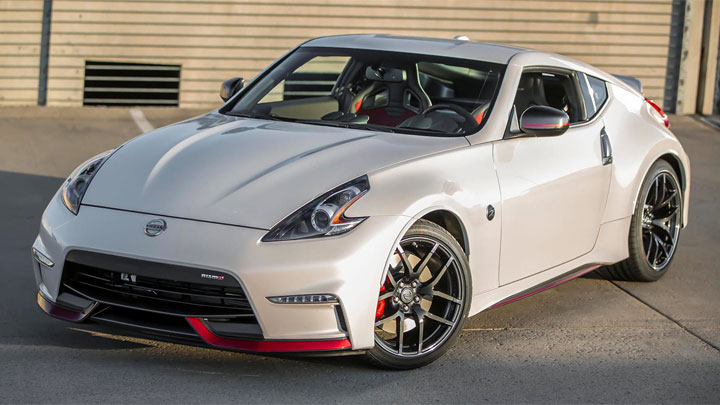 The 370z is showing its age in 2020, but still offers a lot of performance for the money. With 332 horsepower on tap and 270 lb-ft of torque, the VQ37 power plant is still competitive, even with the brand new Supra.
Speaking of which, the proven 370z platform offers a manual transmission that rev-matches for you as you downshift so you don't have to show your skill to everyone coming up to a stoplight. Of course, you can turn off this feature to exhibit your true prowess while a Supra owner can only get an automatic.
The 2020 Nissan 370Z Nismo has 18 more horsepower than the standard model (350) and a 4.6 second 0-60, but honestly we would recommend the sport to save $15k for mods, of course.
The platform is aging, but Nissan has teased a 2022 model, so I just consider this a good run on a classic platform that's still plenty fun to drive!
Cadillac CT5-V – $48,690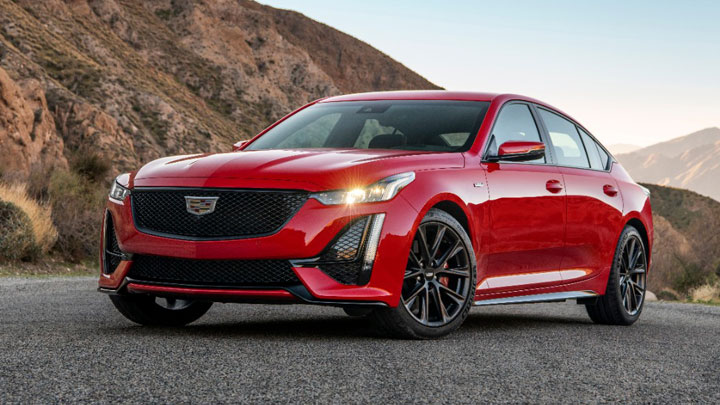 Cadillac brought out a wildcard here, and offers 360 hp and almost 400 lb-ft of torque in a comfortable, domestic package.
In the 2020 Cadillac CT5-V, you get driver-adjustable magnet-ride dampers, comfortable seating for 5, a larger touch screen, and artificial engine noises from the speakers in back. Most won't notice the fake sounds, but car enthusiasts will, and when there is more performance available for less, they may look elsewhere.
Although there is quite a lot of performance here in the form of power and acceleration (4.6 seconds to 60), it's not the whole equation. Cadillac may have missed the mark in relegating their "sports car" line down to the CT5-V, instead of the snarling, Corvette-powered monster that is (was?) the CTS-V.
Beggars can't be choosers, but with the longevity lately of GM cars, would you choose a Cadillac?
Read Also: HP vs WHP vs BHP (How Do They Differ?)
Lexus IS 350 F Sport – $45,375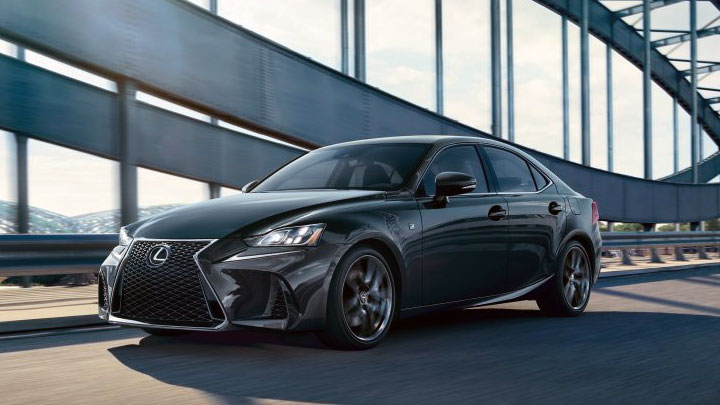 Thank you, Lexus. We want an awesome Toyota-inspired sports sedan to flog those Germans! While we are happy it's still here, we need the new! This chassis has been around for the last 5 years and it's beginning to show that age.
With a glacial 5.6 seconds to 60 from its 311 hp engine, it's flogged by the competition (Audi, BMW, and Genesis) and at almost $50k when appointed with the bare options, it hardly presents the same value to an average buyer that Lexus once promised.
While many a car fanatic has affinity for Toyota, Lexus is falling behind, so we hope they bring something amazing to the table come 2022.
Honda Civic Type R – $36,995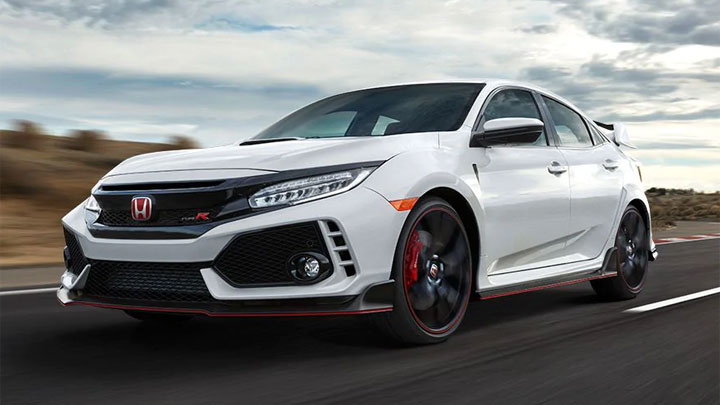 Imagine Batman in a Kill Bill-style bike suit. Yellow with black accents, and an insane wing on the back and you have the 2020 Honda Civic Type R.
With this flamboyant Gundam, Honda managed to remove torque steer completely and let loose 306 horsepower onto the city (and Nordschleife) streets.
The Type R gets to 60 miles per hour at a staggering 5.0 seconds, and does it with an extremely responsive short throw shifter that consistently rewards every driver that slips inside.
Once you get used to the "look at me!" accents, the Type R quiets down and provides a comfortable commute. Just know you have a raging bumblebee on a unicycle at your fingertips.
Hyundai Veloster N – $27,600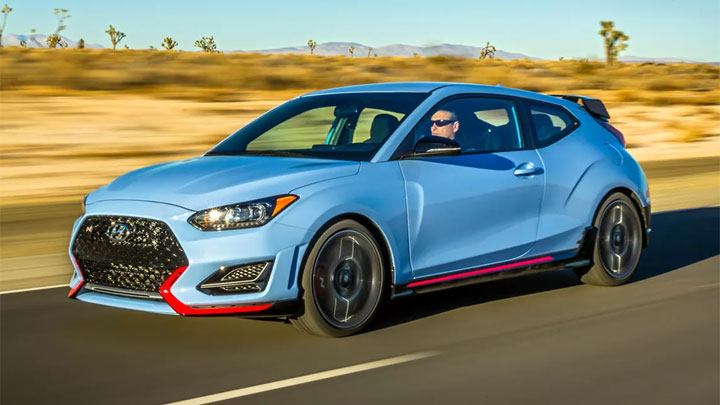 While the Veloster N hasn't changed from 2019 into the 2020 year, it's still one of the best bang for the buck rides when considering the other competitors in this class.
The closest-in-price Toyota 86 has 70 less horsepower and 120 less lb/ft of torque, and although power isn't everything in performance cars, it does matter in the "Seat of your pants" category.
Speaking of which, the seat of your pants will accelerate to 60 miles per hour in a mere 5.5 seconds. It's glacial in a Lexus, but downright awesome in a Hyundai.
The Hyundai is definitely the underdog in this competition as hot hatches aren't very popular, and the front runners (Golf GTI, Ford Focus ST, Mazdaspeed 3, Mini Cooper S) are well established and quite refined after years of production and testing.
Therein lies the boldness of the Hyundai in their release of the Veloster N in 2019. I say bold, but it's not without thought. The Hyundai Veloster N can hang with the big dogs and boasts a chassis engineer who worked for BMW for 30 years! Well done Hyundai.
Genesis G70 3.3T – $46,650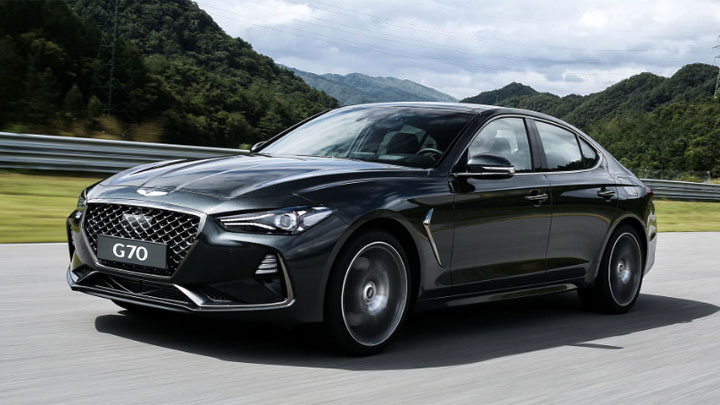 Genesis, the maker of the 2020 Genesis G70, offers quite a lot of performance and poise for the money. Coming in a few thousand less than a well equipped Audi, this "upscale Kia Stinger" packs a punch when mated to the optional 3.3 liter V6 that's good for 365 horsepower.
Mash the gas pedal and 60 mph comes at you in only 4.5 seconds! Proper speed that can't be matched by many other 4 door sedans on the market.
With a well-appointed interior, thought out navigation, infotainment that truly bumps, and driving dynamics that embarrass many old-timers in the same class, the Genesis G70 offers incredible value for the money.
Sports Cars Under $50k Chart
(Click on column headers to sort)
| Make/Model | Starts at | Horsepower | 0-60 MPH |
| --- | --- | --- | --- |
| Alpha Romeo Giulia | $39,400 | 280 | 5.5 |
| Audi S4 | $49,900 | 349 | 4.3 |
| BMW M240i Coupe | $46,795 | 335 | 4.3 |
| Cadillac CT5-V | $48,690 | 360 | 4.6 |
| Chevrolet Camaro 2SS | $42,500 | 455 | 4.1 |
| Dodge Challenger R/T Scat Pack | $46,490 | 485 | 4.3 |
| Ford Mustang GT | $35,630 | 460 | 4.2 |
| Genesis G70 3.3T | $46,650 | 365 | 4.5 |
| Honda Civic Type R | $36,995 | 306 | 5.0 |
| Hyundai Veloster N | $27,600 | 275 | 5.5 |
| Infiniti Q60 | $41,350 | 300 | 5.2 |
| Lexus IS 350 F Sport | $45,375 | 311 | 5.6 |
| Mazda MX-5 Miata | $26,580 | 181 | 5.7 |
| Nissan 370Z Nismo | $45,790 | 350 | 4.6 |
| Subaru WRX STI | $36,995 | 310 | 4.6 |
| Tesla Model 3 Long Range | $46,990 | 346 | 5.1 |
| Toyota 86 | $27,060 | 205 | 6.4 |
| Toyota Supra | $49,990 | 335 | 3.8 |
| Volkswagen Golf R | $41,290 | 330 | 4.5 |
Conclusion
Ok, so I may have made it even harder for you to decide… perhaps muddied the waters again? That's what I'm here for. I want to give you the most information possible so you can live out your car fantasy via downshifting through tunnels, monthly payments, and slightly-higher-than-average maintenance costs.
Disagree with any of these picks? Think a different car under $50k should be on this list? Leave a comment below.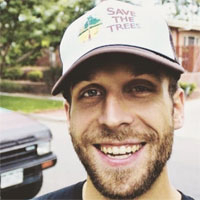 Latest posts by Al Seizovic
(see all)