6 Best Spray-In and Roll-On Bedliner Kits (DIY to Save Money)
Note: This post may contain affiliate links. This means we may earn a small commission for qualifying purchases at no cost to you.
When you're using your truck to haul things, people too often accept that the bed will get torn apart. But the truth is, with just a little preparation and investing you can protect the bed of the truck you just bought and keep it looking like new.
While there are tons of products out there to help you do this, one of the most economical and efficient solutions is spray-in and roll-on bed liners.
But with so many options out there, which ones are the best and will do what they promise? We took out the guesswork by reviewing some of the top names in the industry – that way you can protect your bed liner with confidence.
See Also: Powder Coating Wheels (How Much Does it Cost?)
Best Spray-In (and Roll-On) Bed Liner Reviews
The truth of the matter is that not all spray-in bed liners or roll-on bed liners are created equal. Each one has its own advantages and drawbacks, and what might be the perfect fit for someone might not meet someone else's needs.
Take the time to read our reviews before digging into the buyer's guide to find the perfect spray-in or roll-on bed liner for your truck!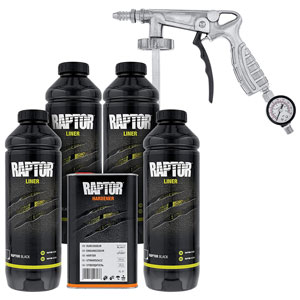 The U-Pol Raptor spray on truck bed liner is one of the top options that we reviewed. It's perfect for novices or those that aren't sure if they'll be able to get an even coat across the entire truck bed.
It comes with a spray gun, a regulator, a pressure gauge, and of course, all the liquid liner that you'll need! However, you will need an adapter to hook up the spray gun to an air compressor – but they're relatively cheap at around three dollars.
Once you've finished spraying on the U-Pol Raptor bedliner, you don't need to do anything else! It's fast-drying, and there's no need to wax after application. The final product is stain and abrasion-resistant, waterproof, and sound dampening for a fantastic finish.
Some consumers did complain about the spray gun provided. However, it's really a matter of personal preference. That's why U-Pol Raptor offers two different packages with different spray guns.
The spray gun provided in this kit is fully adjustable, while the one provided in their other package comes ready to go – but you lose some of the customization ability.
Pros
Easy to use and apply evenly – designed for novices
No need to wax after application/abrasion and stain resistant
Waterproof and flexible to help minimize noise and protect your truck
Comes with a customizable spray gun, regulator, and gauge
Cons
Attachment for air compressor not included
Related: Common Truck Bed Sizes Chart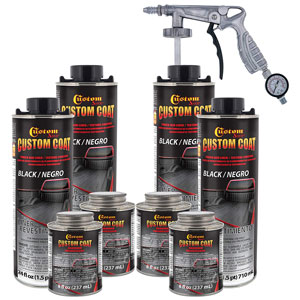 If you're looking for a little splash of style, then the Custom Coat Spray-In truck bed liner is a great choice. Of course, they have the iconic black coat, but they also offer lime green, purple, red, blue, and more!
The paint itself is very forgiving, making it perfect for novices trying to get a smooth, even coat throughout. It's because it's so beginner-friendly that many customers note that there is extensive prep work to get a professional level look.
While that's true, it's necessary no matter the spray bed liner you buy. You'll need to tape off edges and equipment that you don't want to paint, and this takes time.
If you don't have a spray gun, Custom Coat offers all of their color and sizing options in a roll-on option too. Whether you're looking to restore a damaged bed liner or you're trying to protect the existing one, why not do it with a splash of style that Custom Coat offers?
Pros
10 different color options and 5 sizing options available
Comes with both spray gun and roller options
Easy to apply and forgiving application makes it perfect for novices
Works great for both restoration and preservation projects
Cons
Many customers noted the extensive prep work required – but this is typical of spray-on bed liners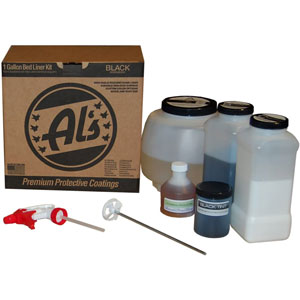 If you know what you're doing and willing to put in a little extra work, Al's Liner can save you a bit of cash. It's a less expensive option than some of the other bed liners that we reviewed, but the tradeoff is that it's not as easy for beginners.
You have to mix the chemicals yourself, and they start to dry quickly. While they dry quick enough to be a headache when applying, it takes up to 4-days for it to fully dry on your vehicle.
They have three different color options, black, gray, and tan. It's a great option to prevent sun fading and prevent chips and scratches from everyday use.
It's not perfect, but for the low price, it's a phenomenal option!
Pros
Lower price than other spray-in bed liner options
Three color options
Great for added protection and prevents fading
Cons
Takes up to 4 days to fully dry
Not as easy to use as other spray-in bed liners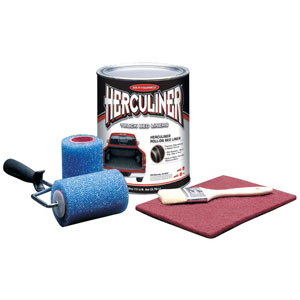 Whether you don't have an air compressor or you simply want a thicker finish, roll-on bed liners are a great option to give your truck some extra protection.
They typically aren't as expensive as spray-in options, and they don't require all the extra equipment either! But you might think you need a spray-on bed liner to get an even or coat or make installation a little easier. Herculiner throws that theory right out the window.
Applying Herculiner couldn't be easier. It's a roll-on bed liner and comes with everything you need to get the job done. It's great for beginners and is thicker than most other bed liners – including spray-ins!
It doesn't chip, flake, or peel, which gives you a long-lasting bed liner for years to come! Heculiner offers two color options – black and gray. They also have two sizing options, one quart, and one gallon. Whether you're looking for a touch-up or a brand-new application, Heculiner has you covered!
The best part of a roll-in Bedliner compared to a spray-in is the price. Herculiner is significantly cheaper than the spray-in options.
The biggest drawback to roll-in liners is that it takes longer to cure, and you typically need to apply multiple coats. While the Herculiner claims that each coat cures in four hours, customers often claim that it took them a bit longer.
Pros
Cheaper than spray-in liner options
Two-color and two sizing options
Extremely thick roll-on provides extra protection
Doesn't chip, flake, or peel for long-lasting durability
Easy to use – great for beginners!
Cons
It takes a long time to cure between coats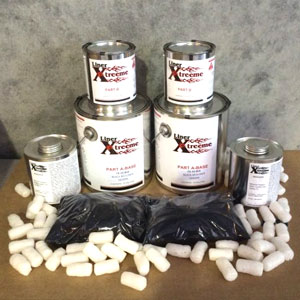 While most other kits only sell you up to a gallon of bed liner at a time, Linerextreeme sells you more than enough to complete the job with a 3-gallon package.
While the overall price tag might be slightly higher, the price per gallon is among the lowest. The product itself is easy to use; simply mix the two components and add them to your hopper!
Moreover, the Linerextreem kit comes with a free spray gun saving you even more money. It's a long-lasting, durable bed liner that gives you extra peace of mind and extra protection.
The only real drawbacks to LInerextreeme are that it only comes in 3-gallon containers, and some customers have complained that it's challenging to get even layers. But if you know what you're doing, you'll need around 3-gallons, and you'll be able to take the extra time required to get the layers even.
Pros
Large 3-gallon supply
Great price per gallon
Simple mix and spray-instructions
Long-lasting and durable
Comes with a spray gun
Cons
Only one size option at 3-gallons
Getting even layers can be difficult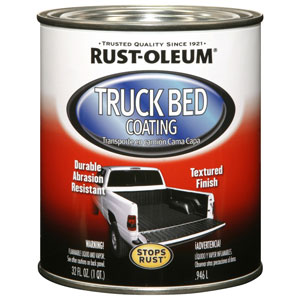 As the name implies, Rust-Oleum knows rust. These products are great at preventing it, and their roll-on bedliner is no different. You can either brush or roll it on, and it cures in only four hours.
It has thick layers for extra protection, and you can apply as many layers as you'd like for heavier duty applications.
The final product has a textured finish that perfectly contours to grooves and edges for a more natural fitment. This textured finish also gives your truck bed extra grip, so your haul doesn't shift too much during transport.
For large truck beds, Rust-Oleum is more expensive than other bed liners, but you're getting a top-notch product that is well worth the added cost. It only comes in quart containers, so make sure you buy enough before you get started!
Pros
Can brush or roll on
Applies extra thick for added protection
Textured finish provides extra grip and contours to grooves and edges
Great at preventing rust
Cons
More expensive option for a roll-on Bedliner
Only comes in one color and one size option
Spray-In / Spray-On / Roll-On Bedliner Buyer's Guide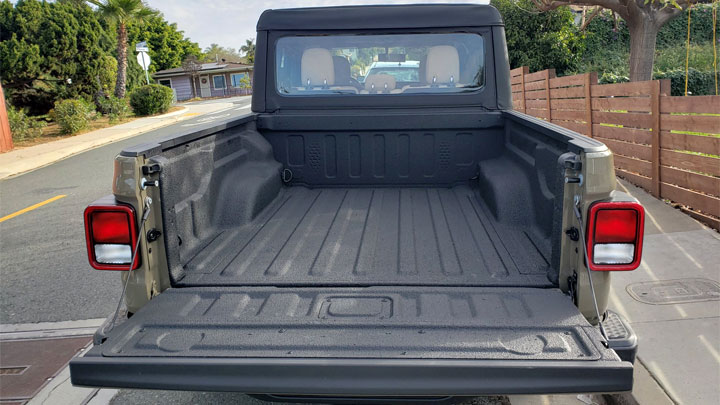 If you've never lined your own truck bed before, you probably have tons of questions. That's why we took the time to break down everything you need to know to pick the perfect bed liner and get the job done right the first time.
Keep reading, and we'll walk you through everything you need to know and get you on the road to success!
Spray-in vs. Roll-on
Whether you want a spray-in or a roll-on Bedliner comes down to a few different factors. While a lot of it is personal preference, there are pros and cons to both options.
Spray-in bed liners are easier to install if you have the proper equipment. After the necessary prep work, you finish the application process in 15-minutes. It's easy to get even layers, and you hardly ever have to worry about your mixture drying out before you're finished.
Roll-on bed liners have the advantage that they are typically cheaper, and they usually provide thicker layers. Thicker layers mean more protection, but applying those layers is far more labor-intensive.
Other Types of Bedliners
While spray-in and roll-on bed liners are two of the more popular options out there, they aren't your only choices. Other standard options include drop-in liners and DualLiner. Both options consist of a hard plastic material that sits on the bed of your truck.
While DualLiner's seal off your truck bed completely, they are more expensive. However, drop-in liners can damage your truck bed over time and shouldn't be permanent solutions.
Another option is carpet bed liners. These protect the bed of your truck; they aren't waterproof, and if they get wet, it can easily lead to damage and warping.
You can also get a rubber truck liner, but they offer the same concerns as drop-in liners. Water and debris eventually work their way underneath them, and this leads to damage.
Finally, two more options that you have are temporary bed liners and disposable bed liners. Both are options that you attach and remove as needed, but you can reuse the temporary bed liners as required while the disposable bed liners are one-time use only.
DIY vs. Professional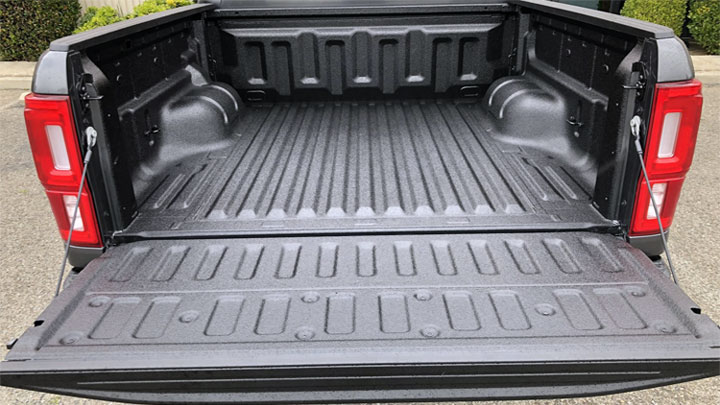 The products that we reviewed here are for DIY applications, and while they don't have the same quality finish as professional products, they come at a fraction of the cost.
While you won't get the same level of protection as a Line-X or Rhino Bedliner, that doesn't mean you're getting a shabby product. DIY bed liners still look great and add extra protection to your truck.
Unless you're hauling truly abrasive materials, you probably don't need the additional perks that the professional bed liners brands provide.
How Much Material Do You Need?
Whether you're looking for a roll-in bed liner or a spray-in, the amount of product that you need stays the same. We could bore you with the math, but you just need to know how much you need to buy, right?
That's why we broke down how much bed liner you'll need to do the job right. Just check out the chart below for your truck!
Keep in mind that this is for a single coat, and only for the bed liner – although many people use these paints for their entire vehicle since they last longer than Plasti Dip!
| Bed Size | Amount Needed Per Coat |
| --- | --- |
| Compact Truck Bed (5-ft) | 3 Quarts |
| Short Truck Bed (5-ft 8-in) | 1 Gallon |
| Standard Truck Bed (6-ft 5-in) | 1 Gallon |
| Long Truck Bed (8-ft) | 1.5 Gallons |
How to Apply
Prep work is essential before you get started. Make sure to wash, sand, and dry before applying the new bed liner. Failure to do so will result in an uneven application.
From there, make sure to tape off any areas that you don't want to get painted, especially around windows and exterior paint.
Wait to mix the paint until you're ready to apply. As soon as the two parts get mixed, the curing process starts. The longer it takes you to get started, the less time you'll have to apply the liner.
Finally, always start at the front of your bed liner. You want to work your back towards the rear of your truck, so you don't have to step in the freshly lined bed or jump off the side after you've applied the bed liner!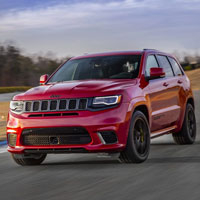 Latest posts by Adam Mann
(see all)