8 Best Wire Strippers for Automotive Work (Self-Adjusting and Standard)
With every passing year, the vehicles we drive become increasingly reliant upon complex electrical systems to operate and perform as intended. As a result, it is typically necessary to complete electrical repairs of one type or another, at some point during a vehicle's service life.
While wiring-related repairs, in general, can be quite tedious to complete, automotive electrical work can be simplified to a great degree when one has the proper tools at their disposal. When dealing with wiring related issues, few such tools are as valuable as a quality set of professional wire strippers.
Premium-grade wire strippers are compact in design, feature built-in wire cutters, and cleanly strip a wire to its bare conductor with every use. These are qualities that are of immense importance, as poorly prepared wires can lead to a host of troublesome connectivity issues.
Whether you're fixing a car window that won't go up, installing a sub, or anything in between, here are eight of the best wire strippers currently available.
Best Wire Stripper Reviews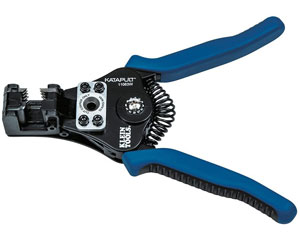 If you're searching for a premium set of adjustable wire cutters/strippers, then Klein Tools has your every need met. As one of the best hand tool manufacturers, Klein's heavy duty wire stripper is intended for use on all 8-20 AWG solid wire and 10-22 AWG standard wire, providing consumers with peace of mind that they are well equipped for the job.
These strippers also feature a built-in cutter, to easily trim wire, without having to have a second tool at the ready.
It is worth keeping in mind that the Katapult 11063W model is somewhat larger in size than many standard strippers, which can present difficulty when working in tight confines. However, this should be of little issue in an automotive setting, unless faced with cumbersome in-dash electrical issues.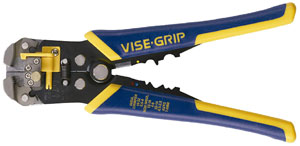 Arguably the best self-adjusting wire stripping tool available today, Irwin's Vise Grip 2078300 wire strippers are ideal for anyone who finds themselves neck-deep in a sizable wiring project, as this tool functions as a wire stripper, cutter, and crimper.
This unit's 3-in-1 functionality saves an immense amount of hassle over being forced to keep track of 3 individual tools, which can easily try one's patience. These crimpers are also backed by a lifetime-guarantee, eliminating any worry over future replacement.
The Irwin Vise-Grip 2078300 also includes a micro-adjustment function for stripping wire of a small gauge. While this feature might take some time to get the hang of, a little practice will have you stripping wires of all diameters like a pro, in no time.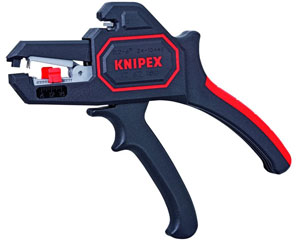 Knipex is a name that is synonymous with perfection in the premium plier market, with the company's automatic wire strippers being no exception to this standard of excellence.
Made in Germany, Knipex's automatic wire stripping tool is designed to cleanly strip 10 to 24 AWG wire, making them the perfect choice for handling most any automotive electrical chore. These strippers also feature an ergonomic handle which provides all-day comfort when the task at hand proves lengthy.
While the retail price of the Knipex 1262180 stripper might initially draw a discerning glance, the quality of this tool easily justifies every penny's worth of expenditure. Those who have used Knipex products in the past are well aware of the difference in quality between Knipex products and those offered by various other manufacturers.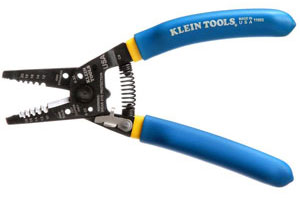 If you are a fan of standard wire strippers but have grown tired of poor quality units that seem incapable of stripping a wire cleanly, then Klein Tool's wire strippers/cutters are worthy of your attention.
This tool features precision-ground stripping holes for effortless operation and professional-grade results. Klein standard wire strippers are capable of stripping 10-18 AWG Solid and 12-20 AWG Stranded wire and feature a built-in looping tool, as well as an integrated cutter.
In certain cases, the attached locking mechanism used by Klein in the production of these wire strippers can present a certain amount of hassle if it loosens with time. However, this device can always be tapped out of the way, or removed, if it were ever to become an issue.

Irwin's Vise-Grip wire stripping tool should make a welcomed addition to any toolbox, especially when one is forced to work in tight confines. These wire strippers utilize a narrow, elongated nose, which is capable of reaching hard to reach spots, where larger strippers simply will not fit.
Irwin's wire stripers are compatible for use with 10 to 22 AWG wire, and also function as bolt cutters, as well as wire crimpers, eliminating the need for additional tools.
It is worth noting that the Irwin Vise-Grip 2078309 does not feature a rebound spring, as is common with many other crimpers. While most consumers will find this to be of little concern, it can present additional hassle when a two-handed operation is not feasible.
If you're looking for a set of wire strippers that will go the extra mile, and are capable of standing the test of time, then Milwaukee's 6-in-1 wire strippers are an ideal fit.
Like other Milwaukee products, this tool is engineered with durability in mind and constructed from forged alloy-steel, encompassed by a premium corrosion-resistant coating. These Milwaukee wire strippers also function as a pipe reamer, wire crimper, wire cutter, loop maker, and bolt cutter.
When using Milwaukee's 6-in-1 tool, it is imperative to select the correct size stripping hole, in order to prevent conductor damage. Due to the aggressive nature of these strippers, they are capable of biting into any material that is engaged.

Made in the USA, Channellock's 6-1/4" wire strippers are the ideal choice for anyone who is searching for a basic set of strippers that provide reliable performance from day to day, and job to job.
These strippers are capable of handling any 10-20 AWG wire and feature labeled holes that denote the gauge of wire for which they are intended. To further illustrate the reliability of their wire strippers, Channellock has backed this product with a 100% lifetime guarantee.
While Channellock has engineered these strippers to embody the highest degree of durability, the 958 wire stripper's locking mechanism is another thing entirely. This mechanism is prone to breakage, thereby preventing lock functionality. However, this in no way detracts from the effectiveness of the unit's stripping capabilities.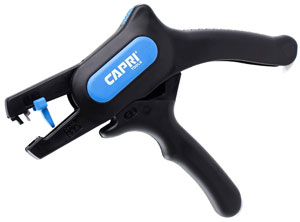 The Capri Tools automatic wire stripper and cutter is ideal for anyone who needs to ensure that every wire within a given project is stripped to an exact, set length. These wire strippers feature an integrated stop, which is fully adjustable to meet the demands of any project., and prevents inaccuracies.
Capri Tools' 20011 wire stripper is also relatively versatile, as it is capable of cleanly stripping any 10 to 24 AWG wire. This tool is also capable of cutting up to 12 AWG wire.
It is worth mentioning that some consumers report instances of difficulty when attempting to strip wire at the upper end of the tool's operational range. While this does not appear to be commonplace, it is advisable to double-check the completion of stripping when working with larger diameter wire.
Types of Wire Strippers
There are two main types of wire strippers currently available on today's market. This includes standard wire strippers and automatic (self-adjusting) wire strippers. Each of these two individual types of wire strippers is designed to accomplish a common goal, by stripping the insulator from a wire's conductor, so that viable connections can be established.
The main difference between standard wire strippers and automatic wire strippers is how they accomplish this task.
Standard Wire Strippers

Standard wire strippers operate under the same general concept as a pair of pliers. However, when closed, standard wire strippers pierce a wire's insulator, allowing it to be pulled from its conductor with manual force.
Each jaw pertaining to a set of standard wire strippers features divets of an exact size, that correspond with an identical divet that is present on the stripper's opposite jaw. When these jaws are closed together, a conical-shaped orifice is created, through which a wire is pulled during stripping.
Standard wire strippers feature orifices of graduating size, which allows for multiple gauges of wire to be stripped.
Automatic (Self-Adjusting) Wire Strippers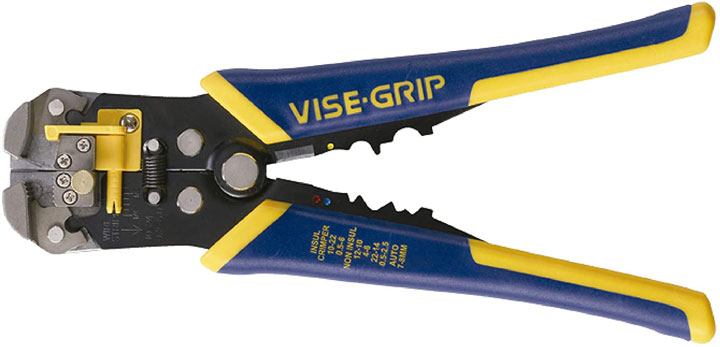 Automatic wire strippers operate through the actuation of two individual jaws, which are mechanical in nature. These jaws are manipulated through the closing of the stripper's handles, and compress downward at their inner edges.
A wire is inserted above a designated lip, which is directly beneath the pair of actuating jaws. The combination of these components creates a pinch point, in which wire is held during the act of stripping.
As a set of automatic wire strippers' handles are squeezed together, the wire is pinched, its insulator is pierced, and each individual section of the insulator is pulled apart. This style of stripper is known as self-adjusting because it automatically articulates to fit any wire size.
Understanding Wire Gauges
When first dealing with wiring of any type, many are often confused by the idea of various wire "gauges". However, this concept is often easier to understand than one might think. When speaking of wire, the term gauge is used as a sizing reference. More specifically, a gauge measurement refers to a particular wire's diameter.
As a general rule, the lower a wire's gauge number is, the larger its diameter. Likewise, the higher a wire's gauge number is, the smaller its diameter.
For example, a 16 gauge wire is smaller in diameter than a 14 gauge wire. This can be assumed without ever physically comparing each wire, because of the fact that 14 gauge is a lower numerical rating than 16 gauge.
Initially, this can be a somewhat difficult concept to grasp. However, with a little practice, one will become adept at the nuances of wire sizing and gauge designations quite quickly.
See Also: Symptoms of a Bad Ground Strap Wire
How to Use Wire Strippers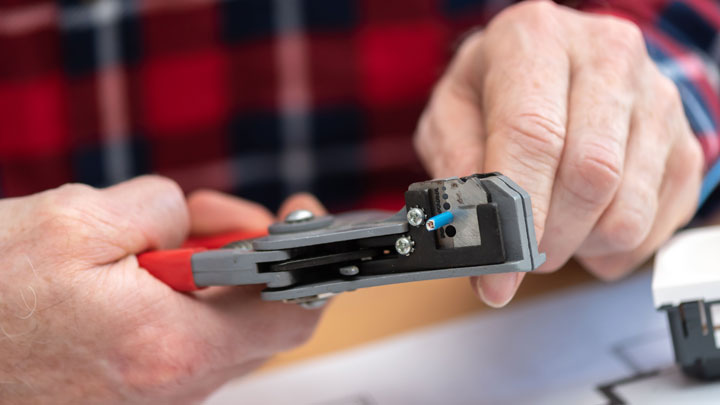 Both standard and automatic wire strippers carry their own individual methods of use. While the procedures pertaining to each differ quite notably, either type of wire stripper can be successfully used with a little prior knowledge.
Standard Type
Select Appropriate Hole – Before one can proceed to strip the insulator from their wire, they must first decide which size hole best fits their particular wire size. While some strippers feature stamped sizing designations that correspond to each hole, others do not. In any event, the hole that is selected must snugly fit around a wire's insulator.
Twist Strippers – In order to remove all insulative material to the most efficient degree possible, one should rotate their strippers back and forth before exerting force. This evenly severs the insulator that is to be stripped.
Pull Outward – You will now pull outward on your wire strippers while holding a firm grip on the wire in question with your other hand. If done correctly, the end portion of the wire's coating will be pulled free in the process.
Automatic Type
Place Wire Into Strippers – Begin by placing the wire that is to be stripped, between the stripper's mechanical jaws, and the flat shelf directly below. You will measure the length of wire that will be stripped, by lining this spot up with the central meeting point of each mechanical jaw.
Squeeze Handles – You will now squeeze both of the strippers' handles together. This will actuate the unit's mechanical jaws, and pull the severed insulator apart. After releasing the unit's handles, you should notice that a severed segment of the insulator has now been upward along the conductor.
Inspect Wire – Upon stripping your wire, it is important to inspect for the presence of an unstripped or missed insulator. While automatic wire strippers do tend to be quite efficient, they can leave behind small amounts of unsevered insulator on occasion.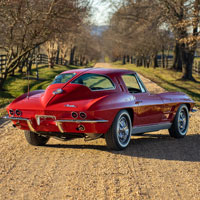 Latest posts by Josh Boyd
(see all)