6 Causes of a Manual Transmission Being Hard to Shift
Grinding those gears despite having an experienced clutch foot? A manual transmission that's become difficult to shift could have you grinding your teeth too. From worn synchros to low transmission fluid, several culprits can leave your stick shift feeling sticky.
Identifying what's impeding your slick shifts takes a bit of investigation. Here are the most common causes of a manual transmission that's hard to shift.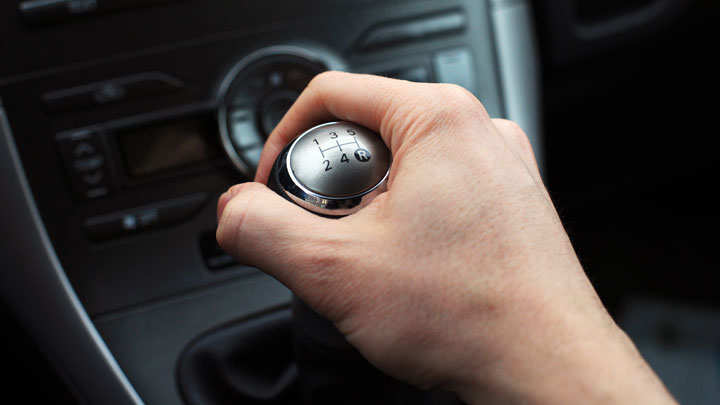 Manual Transmission Basics
The manual transmission relies on several key components working in unison to transmit engine power to the wheels. At the heart of the system is the clutch, which connects and disconnects the engine and transmission. It consists of a clutch disc, pressure plate, flywheel, and throw-out bearing.
When the clutch pedal is pressed, the throw-out bearing pushes the pressure plate back, separating the clutch disc from the flywheel to allow gear changes. Gears of different sizes on the layshaft and output shaft provide varying transmission ratios. Collars slide along the splined output shaft to mesh different gear pairs.
Synchronizers match the speeds of the collar and target gear before they engage. The selector fork moves the collar into place when shifting gears. Power flows from the layshaft to the meshed gears on the output shaft, which turns the wheels.
So while not as flashy, the components of a manual transmission still work together in an intricate sequence. The synchronized dance may be hidden from view, but precise movements are still required to seamlessly harness and transmit power to the drive wheels.
If you're curious and want to know how exactly a manual transmission works, check out the video below:
6 Reasons for a Hard to Shift Manual Transmission
When your stick shift transmission is gradually becoming harder to shift or all of a sudden becomes more difficult to shift into gears, the reason will almost positively be one of the following.
#1 – Clutch System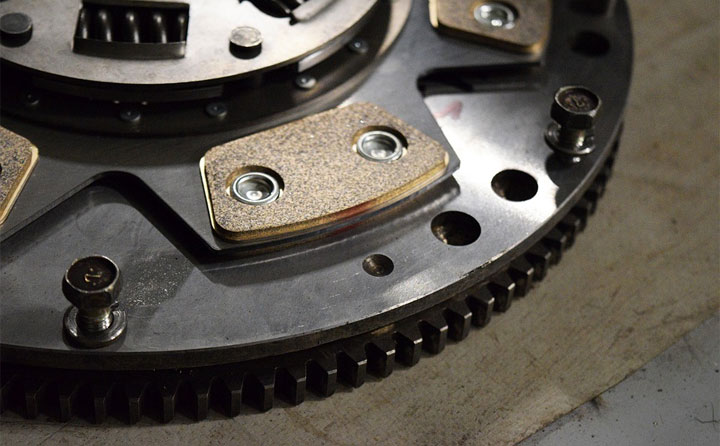 The clutch system of a vehicle is responsible for disengaging and engaging power to the transmission while in between the flywheel of the engine. There are 6 main parts of a clutch system:
Clutch master cylinder
Slave cylinder
Clutch cover
Clutch disc
Release bearing
The clutch disc and input shaft transmission are engaged together. And the clutch cover is connected to the engine's flywheel.
When you push down on the clutch pedal, the pressure will transmit to the clutch master cylinder which pushes the slave cylinder then pushes the release fork to disengage between the clutch cover and clutch disc. At this point, your car is in Neutral.
This means that at that moment the engine spin (power) does not transmit to the transmission. This allows you to easily change gears with a manual shift stick. However, if the clutch master cylinder or slave cylinder is damaged or leaks, it will make it harder to shift gears.
This can happen because if the master cylinder or slave cylinder is damaged or leaks, it can cause loss of fluid pressure which can make the clutch not disengage properly.
If the clutch and engine do not properly disengage, the manual transmission will be hard to shift into any gear, or even not be able to shift at all.
See Also: 6 Symptoms of a Slipping Clutch
#2 – Synchronizer Ring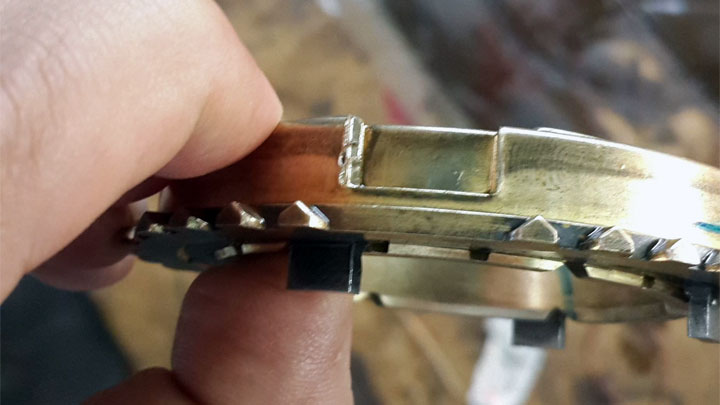 The purpose of the synchronizer or synchro ring is to effortlessly engage the gear. The ring is made up of small teeth which allow it to smoothly be engaged by the hub sleeve and then into the main gear.
If the synchronizer ring were to get damaged or malfunction in some way, it would be difficult to shift the transmission.
#3 – Gears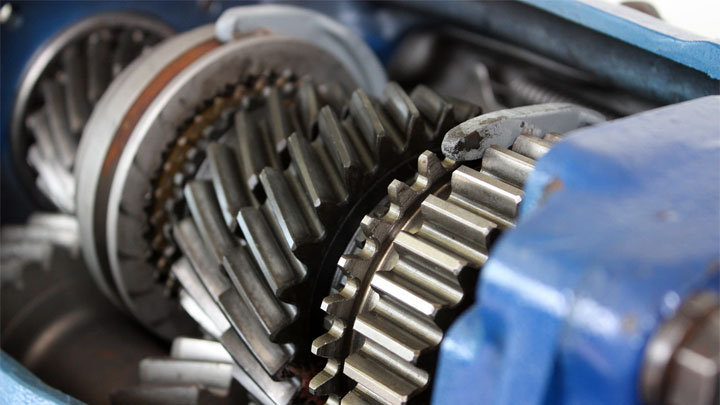 The manual transmission systems' main component is the gear, which is made up of the counter gear, reverse gear, 1st gear, 2nd gear, 3rd gear, 4th gear, 5th gear, and sometimes 6th gear and more. Each gear has 2 teeth that are small and big.
The purpose of the smaller teeth is to accept the hub sleeve's engagement with the synchronizer ring. If these small teeth were to become damaged or worn out, it would be difficult to shift the transmission.
And when a gear is shifted, the function of the bigger teeth is to engage the spinning counter gear which sends a transmission to the output shaft. If the big teeth are damaged or worn out, the transmission will make noise.
See Also: Causes of a Car That Won't Go Into Reverse
#4 – Hub Gear
Between two different gears, there is a hub gear that engages them. For example, the hub gear goes between the first gear and second gear, and it goes between third gear and fourth gear. It is really like a bridge between these gears.
Since the hub gear is connected to the transmission shaft, it cannot be turned freely. A damaged or worn out hub gear will create problems when it comes to shifting your manual transmission.
#5 – Hub Sleeve
The hub sleeve engages the main gears from the hub gear. Depending on the location in which the gear shifts, the hub sleeve can also move to the right and left. The hub gear is like the deliverer of the engagement that lies between the main gear and the hub gear.
There are small teeth on the hub gear that will synchronize with the teeth of the synchro ring as a gear shift takes place in the transmission. But if the hub sleeve were to get damaged or worn out, it would be difficult to shift the transmission.
#6 – Not Enough Gear Oil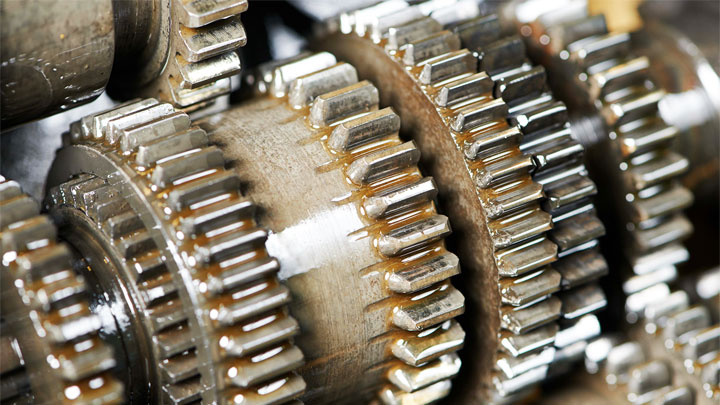 Gear oil, as opposed to transmission fluid for automatic transmissions, is what lubricates the gears of a manual gearbox. It is considered high viscosity (thick) since it has to put up with extreme heat.
If your transmission is leaking oil or even if you do not change it periodically, you will have low oil in the gear. Once this happens, it will eventually become harder to shift it and ultimately, damage to your transmission will result.
In addition, you may hear strange noises from your gearbox or poor vehicle performance.
See Also: How to Identify What Transmission You Have
Manual Transmission Maintenance
Maintaining the health of your manual transmission is important to help prevent any shifting issues. Let's look at a few key aspects of manual transmission maintenance that you can easily follow.
Make it a habit to regularly check and maintain the proper level of transmission fluid or gear oil in your vehicle. This helps to lubricate the gears and allows those smooth gear changes. Keeping an eye on the color and consistency of the transmission fluid can also help you identify small problems before they turn into something much bigger.
Inspecting the shifter cable for any signs of wear or damage is also recommended. A faulty shifter cable can lead to hard shifting or difficulty in engaging gears. If you notice any issues, get it repaired or replaced promptly.
Pay attention to any unusual smells or noises. If it smells like something's burning when you shift gears, it could be a problem with the clutch. I you hear metallic noises or chatter when shifting, you may be low on gear oil or there may even be some damage in the gearbox.
FAQs
Why Is Shifting Into First Gear and Reverse Difficult?
It can be difficult to shift into first or reverse for several reasons. One common cause is a worn-out synchronizer ring which helps to synchronize gear speeds when shifting. Another reason could be a damaged hub sleeve or issues with the clutch system, such as a malfunctioning hydraulic system or low clutch fluid.
What Makes a Gearbox Hard to Shift When Warm?
A gearbox can become hard to shift when warm due to increased friction between the gears. This can be caused by low or degraded transmission fluid, which loses its effectiveness in providing proper lubrication as it heats up. It can also be caused by worn-out or damaged components within the transmission, like gears or synchronizers.
How Can Cold Weather Affect Shifting in Manual Cars?
Cold weather can impact shifting in manual cars because low temperatures can cause transmission fluid to thicken, making it less effective as a lubricant. This can lead to increased friction and difficulty in shifting gears.
Also, cold weather can cause parts of the clutch system to contract, creating potential issues with engagement and disengagement.
Why Is the Shifter Stiff When Changing Gears?
A stiff shifter can be caused by various factors. One common reason is a lack of lubrication in the shift linkage, which can be resolved by applying a proper lubricant. Another possibility is a damaged or misaligned shifter cable, which can cause stiffness and difficulty in changing gears.
In addition, problems within the transmission itself, like a worn-out synchronizer or damaged gears, can also lead to a stiff shifter.
Can Low Engine Oil Cause Hard Shifting?
Low engine oil typically does not directly cause hard shifting in a manual transmission. However, it can lead to other issues within the engine that may indirectly affect the way your car shifts.
For example, if the engine oil level is low and causing inadequate lubrication, it can lead to increased wear on internal engine components and potential damage. This, in turn, can contribute to poor performance and shifting difficulties.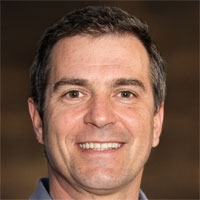 Latest posts by Mark Stevens
(see all)