Last Updated on January 17, 2022
If one were to compare vehicles of yesteryear, to more modern releases that have hit the market over the past decade, they would likely notice a number of discrepancies between the two. Perhaps the most noteworthy of which includes the implementation of modern computer-integrated control systems, beneath a vehicle's hood.
Today's ultra-modern vehicles no longer operate solely under mechanical power. Quite the contrary, cars, trucks, and SUVs now utilize computer-backed on-board data networks, to facilitate proper vehicle operation.
Need help with a car problem RIGHT NOW?
Click Here
to chat online with a verified mechanic who will answer your questions.
Data is captured and relayed to one of several onboard modules, thereby allowing instantaneous calculation of important values such as fuel trims and throttle plate engagement.
The operation of these systems is made possible through the use of many precision sensors. However, sensors of this nature are also prone to occasional failure at the hands of age and wear. When this occurs, a diagnostic trouble code is stored and a check engine light is illuminated.
One common fault code of this type is P0107, which denotes potential problems with a vehicle's Manifold Absolute Pressure Sensor. Read on to learn more about DTC P0107, as well as how to diagnose such issues should they be encountered in the future.
What Does Code P0107 Mean?
OBD-II Trouble Code P0107 Description
Manifold Absolute Pressure (MAP) Barometric Pressure Sensor Circuit Low Input
Diagnostic trouble code P0107 indicates a relative lack of response from a vehicle's MAP (Manifold Absolute Pressure) sensor. As such, a vehicle's ECM/PCM finds itself unable to calculate important equations, such as those which determine spark advance, fuel injector pulse width, and engine load.
To understand the consequences of such an issue, we must first discuss the role of an engine's MAP sensor. The MAP sensor is engineered to record vacuum within an engine's intake tract, thereby relating this value in the form of voltage. However, sensors of this nature can, and often do, go bad with time.
In the case of DTC P0107, the affected vehicle's ECM/PCM is unable to substantiate the delivery of voltage on the MAP sensor's signal wire. This signal is typically delivered in the form of resisted voltage, which originates within a vehicle's 5-volt reference circuit.
As a result, a vehicle's check engine is illuminated. Additionally, affected vehicles often begin to exhibit a range of drivability-related issues, which often include stalling or starting difficulties.
Related: Code P0106, Code P0108
Symptoms of Code P0107
Diagnostic trouble code P0107 is often accompanied by a number of additional symptoms. While not all of these symptoms will be present in every particular case, they are common enough to warrant your attention.
The following are several of the most common symptoms associated with DTC P0107.
Illumination of the check engine light
Extended crank times
Black or dark colored exhaust smoke
Reduced fuel mileage
Reduced responsiveness to throttle demand
Causes of Code P0107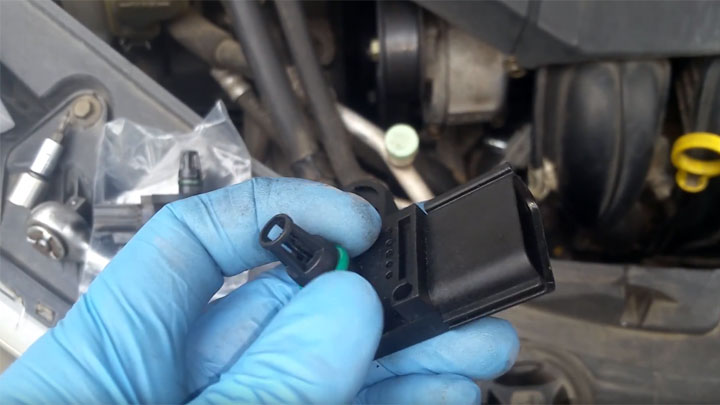 Diagnostic trouble code P0107 can stem from several root causes, which most often differ on a case-by-case basis. However, there are several potential causes of DTC P0107 that are prevalent enough to draw suspicion whenever such issues arise.
The following are several common causes of DTC P0107.
Ground circuit issues (short to power, open)
Signal circuit issues (short to ground, open)
5-volt reference circuit issues (short to ground, open)
Is Code P0107 Serious?
Diagnostic trouble code P0107 is generally considered to be quite serious in nature. This is due to the fact that a fault of this nature often presents a wide range of drivability-related concerns, several of which tend to be quite severe. This places a vehicle's reliability in question, putting one at risk of becoming stranded in the most extreme of cases.
MAP sensor circuit problems have been known to cause an erratic idle, or even a lack of responsiveness to throttle demand, thereby making vehicle operation quite dicey at best.
Likewise, MAP sensor circuit issues can cause a vehicle to stall, or even prevent a vehicle from starting in the first place. This can be quite the concerning set of circumstances to contend with.
In any case, all DTC P0107 related issues should be thoroughly diagnosed and remedied as soon as possible, in a bid to prevent unnecessary downtime and excess expense.
If you do not feel comfortable tackling such repairs yourself, make an appointment with a trusted service center at the first available opportunity.
How to Fix Code P0107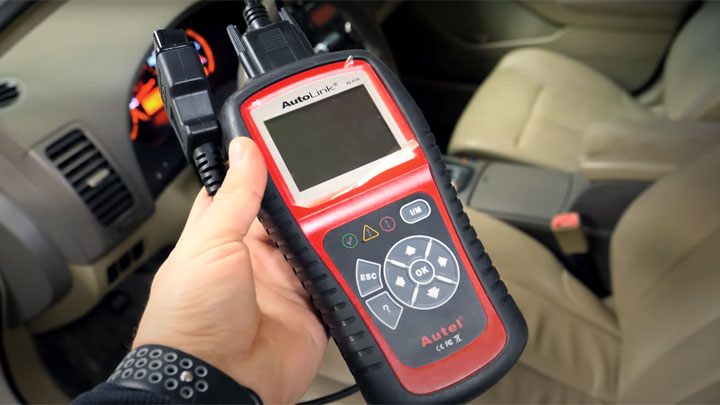 The following steps can be followed to diagnose and repair the root cause of DTC P0107 related faults. As always, be sure to consult a factory-specific service manual for your particular make and model of vehicle, before attempting any such repairs.
#1 – Check For Additional DTCs
Before beginning the diagnostic process, check to ensure that no other diagnostic fault codes are present. Any codes that are found, should be thoroughly diagnosed and repaired before moving forward to step #2.
#2 – Check Live Streaming Data
Begin the diagnostic process by assessing the signal feedback from your vehicle's MAP sensor, with the use of a quality scan tool. If feedback proves less than 0.5 volts, check for the presence of 5-volts on the sensor's corresponding reference voltage pin, while using a digital multimeter.
If no voltage is found, yet 5-volts is present at the corresponding PCM pin, locate the "open" within the affected circuit.
#3 – Jump Voltage Across Circuit
If 5-volts were found at the MAP sensor's reference pin, jump this voltage across to the wiring pigtail's signal wire. If your scan tool reveals an increase in signal voltage, replace the vehicle's MAP sensor.
If this voltage does not increase, locate and repair the circuit's underlying "open" condition.
#4 – Verify Sensor Function
After repairing all faults uncovered during steps #1 to #3, use a vacuum tester to verify the MAP sensor function.
Pull a vacuum on the system while looking for a change in value. As the vacuum increases, the signal voltage should decrease. If this is not observed, replace your vehicle's MAP sensor, using only OEM-equivalent parts.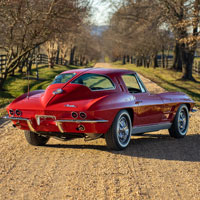 Latest posts by Josh Boyd
(see all)