Plasti Dip FAQ – How Long Does It Last? (and Other Questions)
Note: This post may contain affiliate links. This means we may earn a small commission for qualifying purchases at no cost to you.
Would you like your car to stand out from the crowd? Perhaps you want to protect those expensive new wheels during the harsh winter.
Do you have a hood that's been keyed by some vindictive miscreants that you'd like to fix for next to nothing? Well then, read on for a product that may blow your mind.
See Also: Average Cost to Powder Coat Wheels
What is Plasti Dip?
"Plasti Dip" is actually a bit of a misnomer; it's not plastic, and you don't dip your car parts in it.
Plasti Dip is actually a sprayable rubber that comes out as a liquid, and after a few minutes, solidifies into a rubber compound that is easily peelable and leaves no trace of its existence when applied correctly.
It's available in huge amount of colors and finishes at DipYourCar.com (best place to buy it) but a few common Plasti Dip colors are also available on Amazon.
The product is durable, yet completely removable; there is no better way to return to a stock appearance if you change your mind on the color, and you'd be hard pressed to find a cheaper method to freshen up your car's appearance.
Check out this Plasti Dip gallery to see some examples of what's possible.
Related: How to Remove Plasti Dip From Wheels (Super Easy)
How Do You Apply Plasti Dip?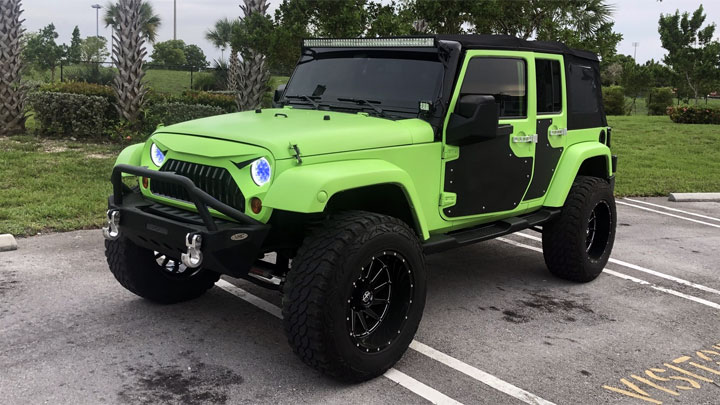 Plasti Dip is typically sprayed from a rattle can, but also comes in gallon buckets which is cheaper than multiple spray cans when dipping larger areas. You can mix colors from multiple buckets and spray them with any paint gun that is compatible with Plasti Dip.
One of the most important factors in the quality of your result is how well the surface is prepped before you start spraying.
Make sure to clean the area as well as possible. You may need to sand down any rough edges until the surface is perfectly smooth if you're covering something that's been damaged, such as a curbed wheel or a keyed body panel.
Also, Dip Your Car's PreDip Spray make a big difference when it comes to prepping the surface to help you get the best final results.
Don't forget to mask the surrounding surfaces. While it's possible to peel off any excess dip, it's much easier to mask the surrounding areas than peel off a partial coat that was put there mistakenly.
Spraying Plasti Dip is very similar to spraying a regular can of spray paint. You want to make sure to hold the can several inches away from the surface you plan to paint. Shake the can and spray a little on a piece of cardboard first to make sure the dip is mixed well.
When you spray each coat, make sure to press down the nozzle of the can while you're off the surface, pass over the surface you're painting, then lift off the nozzle when you're no longer pointed at your intended target.
This will give you the most even application and will limit any coat inconsistencies that would otherwise be caused by cutting off the flow when you stop spraying.
Start out with lighter coats and gradually increase to a heavier spray with each successive coat. Be careful not to lay it on too thick or the dip may run and cause streaks.
Let the product dry for about a half hour (or until it looks dry; the time between coats will vary depending on temperature and humidity). Repeat the process until you've applied at least 6 coats. The more coats you spray, the easier the product will be to remove.
See Also: How To Safely Remove Car Decals
Here's how the pros do it:

How Long Does Plasti Dip Last?
Plasti Dip will last several years if applied correctly. I'm in my second year with a dipped hood and it still looks brand new, save for a couple locations which received hard hits from rocks thrown on the highway.
These areas could be touched up with an additional coat or two if desired.
See Also: Sunroof vs Moonroof
How Long Does Plasti Dip Take to Dry?
It's best to wait about 30 minutes between coats, and about 6 hours for the product to fully cure. Actual cure time may depend on ambient conditions.
Related: How Long Does Clear Coat Take to Fully Dry?
How Much Plasti Dip Do You Need?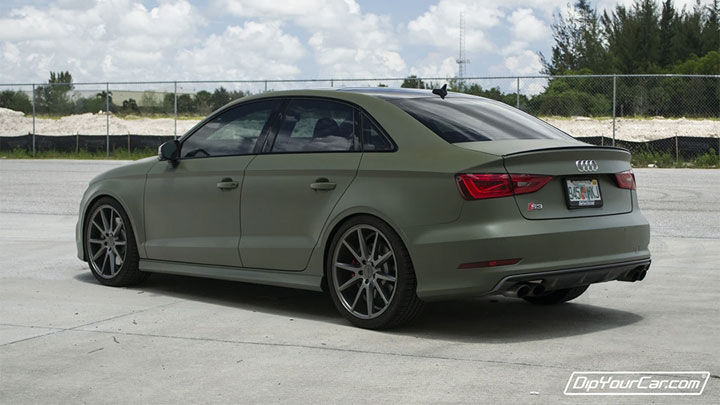 As a rule of thumb for wheels, you will likely need one can per wheel. Fortunately, wheel kits can be purchased that contain the amount of product you'll need for a thorough application.
Complete vehicle kits are also available which contain everything you need to dip your entire car or truck. It's easy to get professional results even for a beginner.
Blackout kits for emblems, badges, grills, mirrors, and trim are great for blacking out chrome areas to give your vehicle a completely different look.
What is the Best Way to Clean Plasti Dip?
Dipped components can actually be washed exactly like you'd normally wash a car. Just be careful to avoid any strong chemicals or solvents like gasoline, as Plast Dip will not hold up to these.
DYC offers Dip Armor in case you need to give your Plast Dip job an extra layer of protection. This product is gasoline resistant and can be ceramic coated.
See Also: How to Properly Remove Bird Droppings From Your Car
Can You Wax Plasti Dip?
Many people have had great results coating Plasti Dip in Turtle Wax Ice Spray, but some waxes may leave streaks. If you're unsure, try a new wax for the first time in a small, inconspicuous area first to see how things look before coating the entire component.
DYC also offers Dip Coat to give your Plasti Dip a greater shine.
How Long Between Plasti Dip Coats?
It's best to wait about 30 minutes before applying an additional coat.
How Many Coats of Plasti Dip for Rims?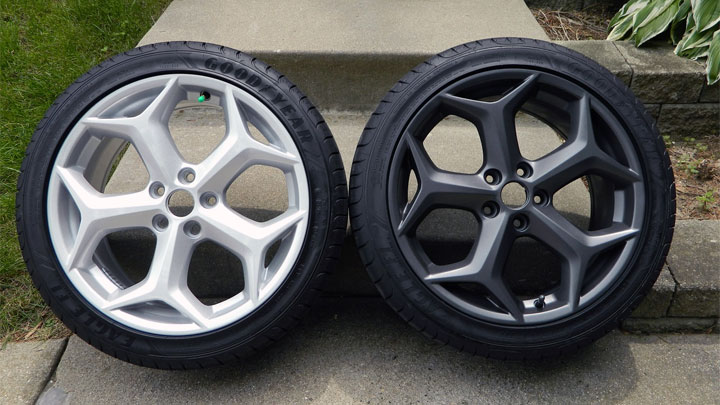 No matter where you're applying Plasti Dip, it's best to apply at least 6 coats. The thicker the product, the easier it is to peel and the more consistent your final result will be.
If you go to peel off your old dip and realize it wasn't thick enough, more can be applied on top to make the layer thicker to aid removal.
How Durable is Plasti Dip?
Plasti Dip is very durable and can often withstand rocks from the freeway (or even the track). If you notice a rock chip or puncture in the layer, you may be able to respray a layer of dip over the damaged section to patch it up.
Related: Best Car Covers for Hail, Ice, and Snow
Can You Plasti Dip in Cold Weather?
Yes you can, but below about 60° Fahrenheit (15.5° C) you will probably want to warm up the cans. Attempting to spray dip in cold temperatures will likely lead to an uneven application. You'll also want to allow a little extra dry time.
Can You Paint Over Plasti Dip?
Yes you can, but make sure you have a nice, thick coat of Plasti Dip before attempting to paint over it. Painting over Plasti Dip may limit the dip's ability to stretch which makes it harder to peel.
How Much Does it Cost to Plasti Dip a Car?
Cost will vary depending on the size of your vehicle, but will likely range from $200-600 if you're doing it yourself. Here are some pricing examples of the best selling car kits.
Pearls and fancy colors will cost slightly more, and having the Plasti Dip professionally applied will of course add an additional labor cost. The labor cost will depend on the size of your vehicle.
Related: Average Cost to Paint a Bumper
How Much Does it Cost to Plasti Dip Your Wheels?
It generally takes about one can per wheel, so the cost will range between $25 and $80 depending on the type of dip you are using.
For best results, purchasing a wheel kit is the way to go.
Plasti Dip vs Flex Seal – What's the Difference?
Flex Seal is also a sprayable rubber, but the compound is designed to prevent leaks and is less effective as an aesthetic coating. If you are trying to change the color of your vehicle, Plasti Dip would be a better choice.
* Featured image credit: domeshooter28