6 Causes of Spongy Brakes (or Soft Brake Pedal)
Ever hit the brakes and feel that unsettling sponginess? Don't panic. Spongy brakes are common but easily fixed if caught early.
We'll break down the likely causes and go over simple diagnostic steps to resolve it yourself, saving time, money and possibly your life.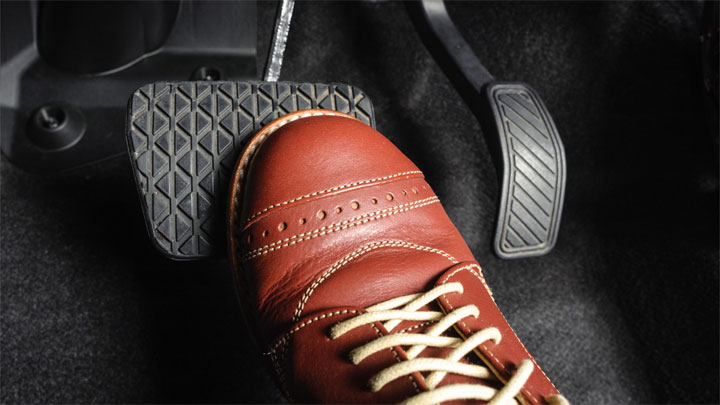 What Are Spongy Brakes?
Spongy brakes, also known as a soft or mushy brake pedal, occur when your brake pedal feels soft or spongy when you press down on it. This sensation is different from the usual firm and responsive feeling that you expect when applying pressure to your brake pedal.
Top 6 Reasons for Spongy Brakes
Spongy brakes aren't just annoying – they're dangerous. If you're feeling anything weird going on when you step on the brakes, check out the following five reasons that it might be happening.
#1 – Air In the Brake System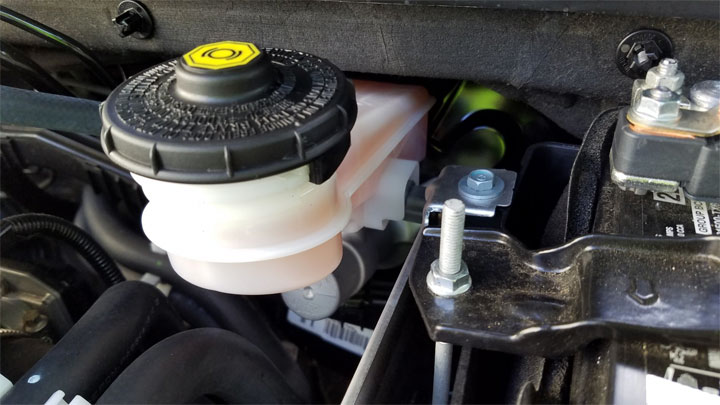 Having air in the brakes is by far the most common reason for spongy brakes. But just as crucial as getting the air out is determining how it got there in the first place. If you recently had work done to the brake system, that's a likely culprit.
Otherwise, you probably have a leak somewhere that you need to look into. Start by bleeding the brakes and see if the problem continues. If the problem persists after bleeding the brakes, keep reading.
#2 – Damaged Brake Lines
While there are plenty of components that can get damaged, the brake lines are the most common. This is more common in coastal towns and states with lots of rock salt on the road. Both of these things cause corrosion, and the brake lines have no protection from any of it.
The longer it goes on, the more likely they are to rust, leading to leaks that allow brake fluid to escape and air to enter the system.
#3 – Old Brake Fluid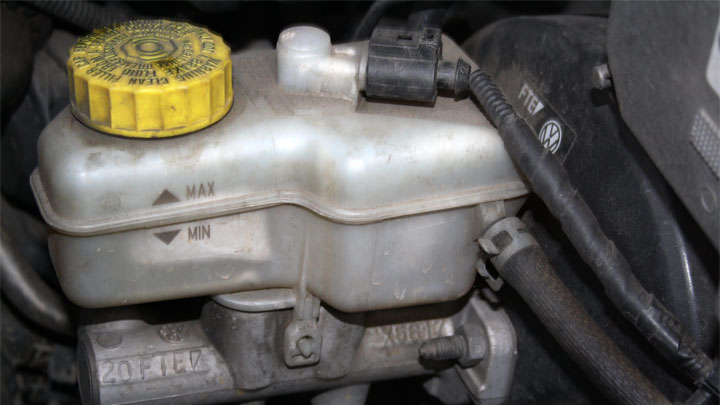 While brake fluid can last a while, it's not something that can last forever. While some manufacturers have set service intervals ranging from 20,000 to 30,000 miles, the truth is a little more complicated.
That's because as long as the brake system doesn't have any leaks, the fluid itself can last over 100,000 miles. But as soon as air gets introduced to the system, it starts to oxidize and add moisture to the fluid.
This is detrimental to your brake system. The more moisture that gets added, the spongier your brakes will feel, which is a telltale sign that you need to flush the system and change your fluid.
Related: DOT 3 vs DOT 4 Brake Fluid
#4 – Damaged Master Cylinder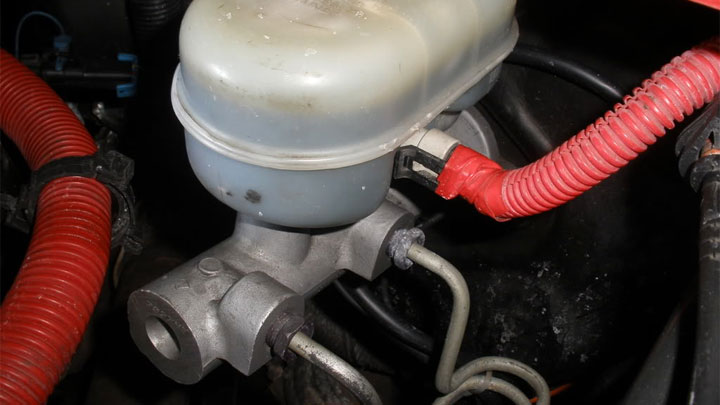 While your brake lines can rust and leak, there are seals throughout your master cylinder that keeps everything working the way it should. If you have a broken seal in the master cylinder, one of two things can happen depending on the leak's location.
First, brake fluid can leak out of the cylinder, which can lead to spongy brakes. Second, if the leak is above where the brake fluid sits – like at the cap – air will get into the system.
Not only can this air cause problems, but the moisture that it attracts will deteriorate the brake fluid—both result in spongy brakes. You'll have to fix the leak and flush the brake fluid to keep the problem from coming right back.
#5 – Damaged Brake Calipers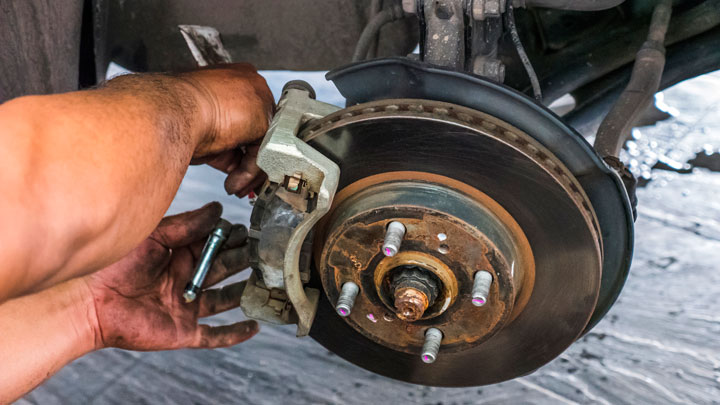 Another common area to have a leak is around the brake calipers. The brake pistons have seals that keep the fluid where it's supposed to be, but a leak can result if those seals start to break down.
While this isn't super common, it's a big problem if it does. Not only will you have spongy brakes, but you'll also have low brake fluid and brake fluid around the rotors and brake pads.
If you have a leaking brake caliper, you need to get it fixed immediately.
See Also: Sticking Brake Caliper (Symptoms/Causes)
#6 – Leaking Brake Booster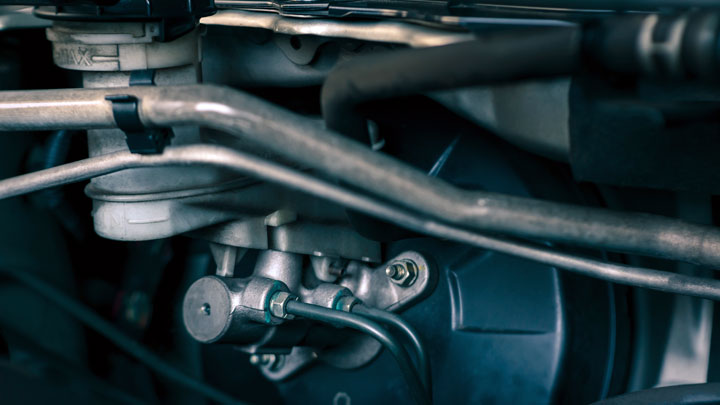 Another critical component in your vehicle's braking system is the brake booster. The brake booster amplifies the amount of force you generate by pressing on the brake pedal.
While this is a helpful feature, if any of the seals start to fail in a hydraulic type brake booster, there's a slight chance you may end up with what seems like spongy brakes but is in essence a drop in brake pressure as you hit the pedal.
Read Also: Faulty Brake Booster Symptoms
Cost to Fix Spongy Brakes
Feeling nervous about fixing your spongy brakes? Let's break down the cost for you in an easy-to-follow manner. Keep in mind that pricing can vary based on your vehicle, location, and where you go to have service done, but these general estimates should give you an idea of what to expect.
First, let's talk about brake fluid flush and bleeding. This is often the go-to solution for spongy brakes caused by air in brake lines or contaminated brake fluid. You can expect to pay about $80 to $200 for this service.
Now, if it turns out that you have more significant disc brake caliper issues, like a seized or damaged caliper, you may need to replace it altogether. A new caliper can cost anywhere from $60 to $300 each depending on your vehicle and where you purchase it. But you'll also need to factor in labor costs which can range from $80 to $200 per caliper replacement.
Maybe you've discovered that your brake caliper damage is due to excessive cylinder wear. In this case, you might need to replace your brake master cylinder. Replacing a master cylinder usually costs between $250 to $500 (including parts and labor) based on your car's make and model.
In more rare cases, a test may reveal that your brake lines are damaged, rusted, or leaking. Replacing your brake lines can cost around $300 to $800 for both parts and labor. Yes, it's a bit pricey, but keeping your braking system in safe working order is a necessity.
Diagnosing a Soft Brake Pedal
When pushing on the brakes, you should feel solid pressure from start to finish. If it feels as though the brake pedal's pressure is changing when you press the brakes or if the brakes feel mushy, you have a spongy brake pedal.
Spongy brakes feel like squishy brakes, and it means the same thing.
There is an additional test you can conduct to try and locate the source of the problem. One of the best tests you can perform is to turn the key off and pump the brakes a few times. Once the pedal gets hard, push down on the brakes.
If the pedal starts to sag to the floor after this, you have a leak somewhere in the system, and you know the problem is deeper than just a little air you need to bleed out of the system.
Frequently Asked Questions
Is It Safe to Drive With a Spongy Brake Pedal?
If you have spongy brakes, it is NOT safe to drive, and you need to repair the underlying fault as soon as possible.
Spongy brakes are one of the most dangerous problems your vehicle can have. It's indictive a deeper problem, and more importantly, it prevents you from stopping as quickly as you should.
Spongy brakes could mean that you have a leak, and small leaks can turn into a big one with just one push of the brakes.
If your leak turns into a blowout, you'll have a complete loss of brake pressure. It won't just take you longer to stop – you won't be able to stop at all!
Even if your brakes aren't leaking, spongy brakes mean that there is air in the system. The softness you feel while pressing the pedal is air hitting the caliper – when this happens, your brakes aren't working.
It's going to take you longer to stop, and it's just going to get worse until you fix it.
Related: 5 Reasons Brakes Can Lock Up
Why Are Brakes Spongy After Replacing Calipers?
Sometimes, after changing your calipers, you may experience spongy brakes, which is quite normal if your brakes aren't properly bled. This could be due to air getting trapped in the brake lines during the service. When there's air in the system, it prevents the brake fluid from circulating properly, causing a spongy sensation when you press the brake pedal.
To fix this issue, you'll need to perform a proper brake bleeding procedure to remove any trapped air from the brake lines.
Will Spongy Brakes Correct Themselves?
Spongy brakes will not correct themselves and do actually require your attention to resolve the issue.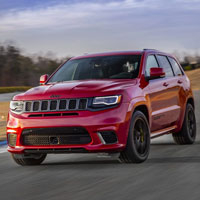 Latest posts by Adam Mann
(see all)