Preparing For Your First Lap of the Nürburgring (Tips and FAQs)
There's no racetrack more famous in the world than the Nürburgring Nordschleife. It's a Mecca in the auto racing industry. Every self-respecting race fan should come here at least once.
Its specific architecture and character are simply unique! With a length of 20.8 km (12.9 miles), the track is a demanding combination of 33 left, 40 right turns, and several straight sections. For its individuality and complexity, the track has been fairly named "Green Hell" among fans.
Driving on the Nurburgring is on the bucket list of many auto enthusiasts. If it's not on yours, we hope this article will change your mind.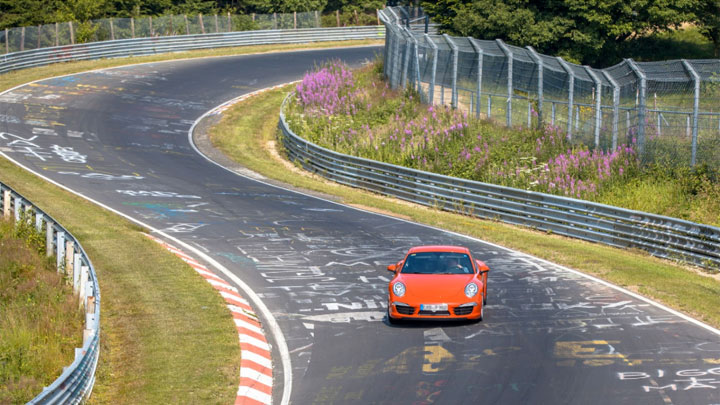 What is The Nürburgring Nordschleife?
The Nordschleife track was designed and built from 1925 to 1927. The track was opened on June 18-19, 1927 at a cost of approximately 8,100,000 DM (Deutsche Marks) (almost $34 million USD in 2020).
Races and mass events take place here from March to November. In winter, the Nurburgring is not accessible for races due to weather conditions.
The height difference is about 300 meters. The highest place is the Höhe Acht section, which is 616.8 meters (2,024 feet) above sea level. The lowest place is Breidscheid, which is 320 meters (1,050 feet) above sea level. The maximum climb is 17%, while downhill is 11%.
Two laps (41.6 km/25.4 miles) by car or a bike from Monday to Thursday cost 149 to 200 euros (about $165 to $225 USD as of publishing). From Friday to Sunday, the prices are higher.
The cost of accommodation (single room) in the area around the racetrack is from 50 euros per day (breakfast included). The evacuation cost from the racetrack starts from 150 euros. The nearest major airports are Frankfurt am Main, Frankfurt-Hahn, Cologne Bonn, and Dusseldorf.
The world record of 5 minutes and 19.55 seconds was set by a test driver and racer, Timo Bernhard, in his Porsche 919 Hybrid EVO Prototype on June 29, 2018. The previous record stood for 35 years.
A Different Kind of Racetrack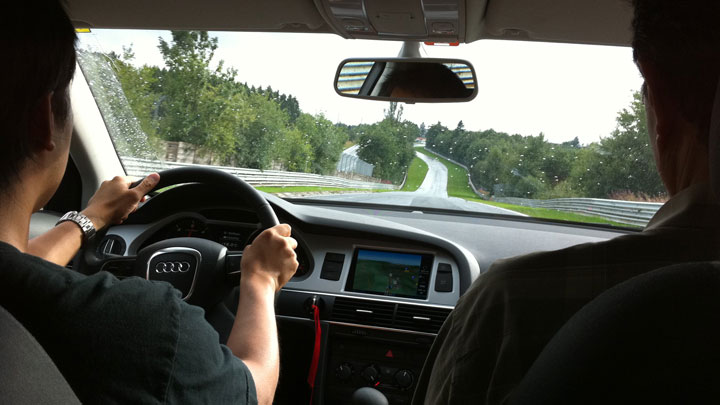 The Nurburgring Nordschleife is not your classic race track with open curves and gravel traps. Instead, it's an incredibly demanding and dangerous track.
If classic race tracks with a lot of turns and short distances (GP, Spa-Francorchamps, Hockenheim, Barcelona, etc.) allow you to get stuck in the gravel and get pulled out to continue racing, then any mistake on the Nurburgring Nordschleife will typically make you end up in the fence. There is simply no room for error.
To the right and left along the entire length of the track, you are surrounded by a thin strip of lawn (2-3 meters wide) that when you fly out on it (even in dry weather), the car instantly loses grip and goes into a skid.
This is primarily due to the overestimation of your capabilities when racers start to go round corners too early and fast.
Nurburgring Map
Here's a good map showing the various corners and straights of the Nurburgring Nordschleife. It also includes recommended lines, brake points, and gearing although that is completely dependent on your vehicle.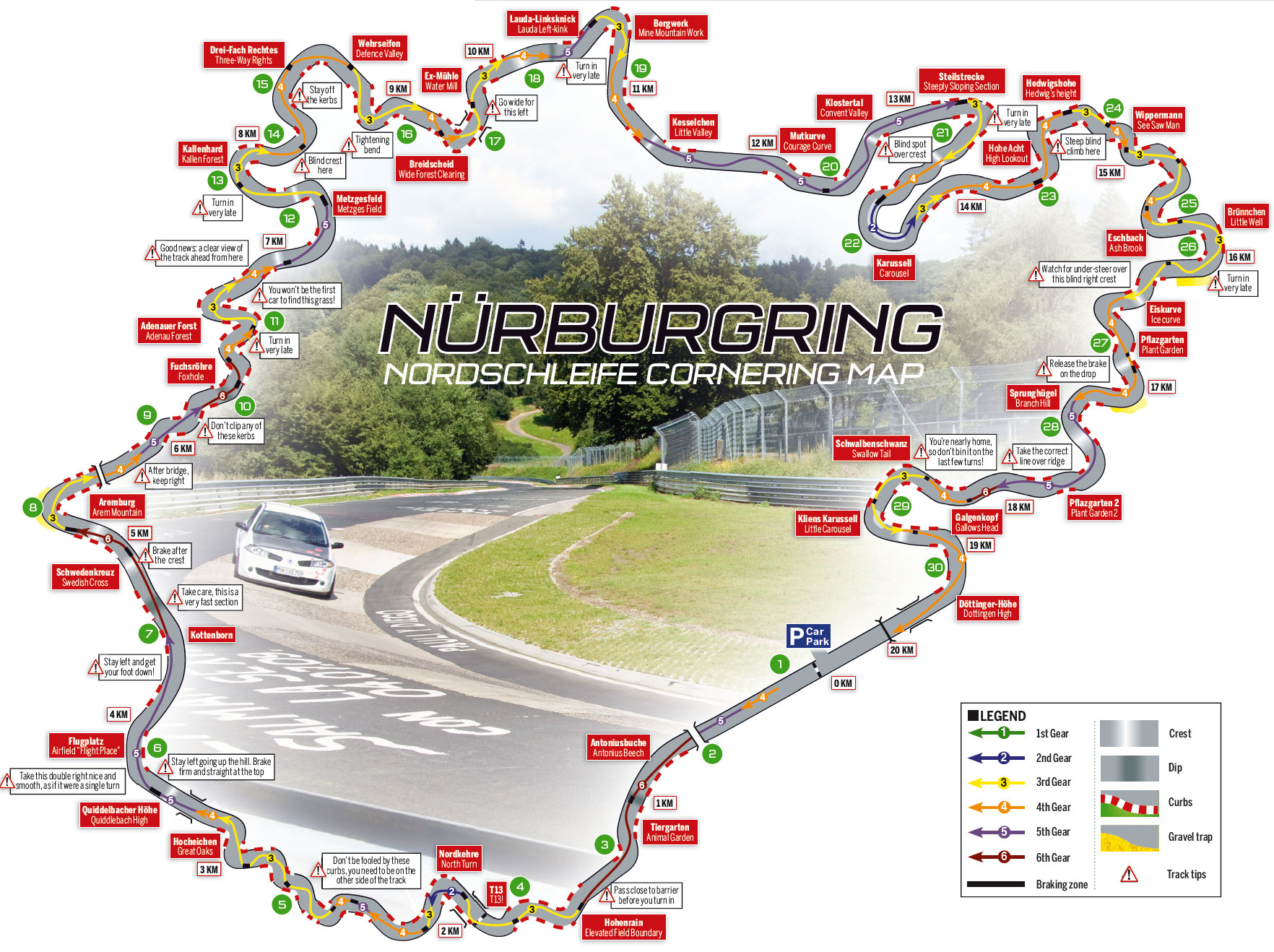 Typical Beginner Mistakes
A typical beginner mistake is when you do not have enough room to complete your cornering maneuver at high speed. You're too fast and early (early apex). Realizing that you won't fit in, you start to jerk the wheel and dampen the speed by braking, thus blocking the front wheels.
When braking, the car's center of gravity shifts forward, the rear loses the downforce, and when the front wheels are fully turned, you start to skid.
You fly off on the grass, the tires lose traction, and… Hello there, fence! At high speeds, such mistakes often end sadly – you lose your car and, God forbid, your health.
The reason for getting off the track can be anything: oil on the track, rain, mud, or even light frost (starts in October). And you can't foresee this at the Nurburgring! Because of the height differences and blind turns, you just lose visibility and have no idea what's behind the next turn.
Sometimes you enter a corner too fast and run into a wet spot (after a very "picky" rain) at the exit and that's it! Everything that happens next depends exclusively on your anti-skidding skills, and it's not even your stabilization system, which your car is equipped with.
Most racers switch off the system on the race track for better lap results. It's just that there's a limit to everything, and you can't overstep physics.
How to Get Started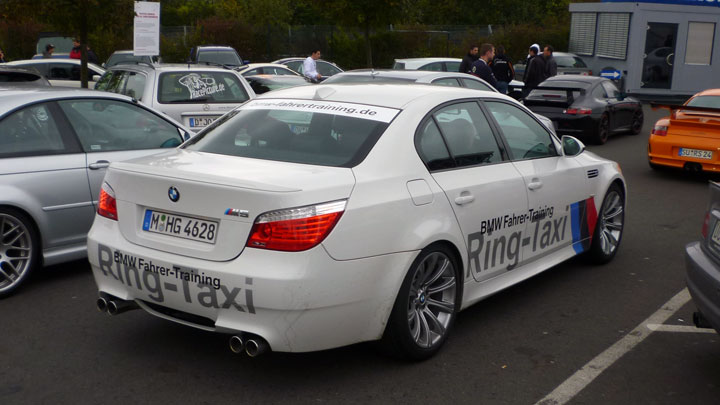 If this is your first time at the Nürburgring Nordschleife and you want to go for a couple of laps, we strongly recommend contacting an instructor and hiring a race taxi (Ring Taxi). Your instructor will help you in the early stages of your track studies.
The point is that you hire a professional racer to take you for a ride on the track with all its all the turns and complex terrain, and get almost the same thrilling race experience full of excitement, fun, and adrenaline.
The Ring Taxi is typically hired for one lap, but you can, of course, go for another round. The number of laps depends solely on your desire, budget, and your body's ability to handle the load.
For many, the Ring Taxi at the Nurburgring is just a few minutes of incredible fun and a small endurance test. However, there are also amateur racers that use the Ring Taxi to prepare themselves for further independent races on the track.
Do you like video games? Ever heard of Gran Turismo? Before the race, we strongly recommend a few laps in the game. This game exactly reflects the architecture and nature of the Nurburgring, allowing you to get the first (though minimal) "Ring" driving experience.
With this game, you can learn all the sneaky turns and dangerous spots of the track, as well as how your FWD, RWD, or AWD car behaves in different situations.
Ok, that's all fine in theory, now let's talk about practice. For the first time, we advise renting a regular Renault Clio RS (210 HP) or BMW M235 (326 HP). Both cars are equipped with an automatic gearbox and allow you to focus on driving, without thinking about and losing time choosing the necessary gear.
After a few laps or when you feel like you have gained some experience, you can switch to a manual gearbox if you want. Still, for better driving fun on the "North Loop," an automatic gearbox is your number one choice. You can also use your own car if you want.
So How Do You Start Your Training?

Rent a PlayStation (PS4 or PS5) to play the latest Gran Turismo. You can also take part in online tournaments. Sign up for karting and get your first driving skills (no need to be shy here).
Rent a race car with an instructor at the Nurburgring and study the track.
Improve your lap time.
After several laps with your instructor, you will start to remember the main turns and dangerous spots. You will learn your way around the track by using different visual hints (asphalt, fence signs, trees, etc) and learn how to apex early and late to find the fastest, safest line around various corners.
Safety Rules
Tourist and Track Days
Buckle up using your seat belts (rear passengers included).
Overtake only on the left.
Max speed limit in dangerous track areas is 50 kph (31 mph). This includes accidents, no-overtaking zones, and areas contaminated with fuel or lubricants).
No intentional track pollution allowed.
In case of a fuel leak, pull over and stop (inform the marshals immediately).
Your vehicle must comply with all safety standards in force within the European Community.
The driver must carry a valid driver license, vehicle registration certificate, and documents confirming insurance (if using your own vehicle).
No stopping or parking throughout the racetrack. Red lights indicate the track is closed (move slowly and be ready for a full stop).
Motorcyclists must have full protective equipment (helmet, overall, upper body and leg protectors).
Participation of vehicles with transit and temporary license plates is forbidden.
No trucks allowed.
Vehicles with noise levels higher than 95 dB are not allowed.
Driving in columns is prohibited.
Accidents
Turn on your emergency lights.
Pull over and turn off the engine immediately.
Use the emergency number to report what happened (your track location, number of people injured, etc.).
Never turn around or move in the opposite direction.
Leave the car and get over the fence immediately.
If possible, provide first aid to those who are injured.
Wait for an emergency service to arrive.
During free races at the Nurburgring, the same rules as on public roads are applied. Be careful and respect other racers. If you're not sure, don't overtake. Do not be a hero.
Ring Taxi and Car Rental
Do not get in a car with "shady" drivers who offer to go for a couple of laps on the track (without the necessary professional race skills) for a cheap price. Doing so may mean your trip can end tragically.
On tourist or track days, the Ring Taxi cars are offered by companies that have an official Nurburgring license. The companies are located in the parking lot in front of the main entrance to the Nordschleife track (tickets can also be purchased there).
All official companies offering the Ring Taxi services have the right to take tourists for a ride during track days as well.
Before you sign up to anything (including car rental), you should obtain all detailed information about the car, driver skills, and associated costs from the company (or a representative that offers its services).
Ask whether the company (or service provider) has official permission to rent a car (registration, accident insurance, etc.).
Ask where the company's office is located. Also, ask for a business card or promotional flyer with official information about the offer.
Take care of yourself! Remember that your family and friends wait for you at home, so you must return safe and sound.
Frequently Asked Questions
Is it really a dangerous track to race on?
Of course, it is. And there are many examples, but you don't really have to race at first. For your own safety, we advise you to use the services of a professional instructor who will give you a theoretical course. After that, you can practice your skills directly on the track.
What are Tourist Days?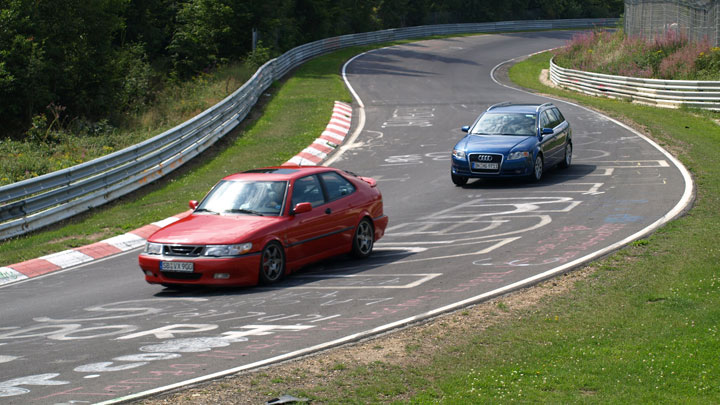 During free races (Tourist Days), you can take a ride on the track in your own car or a rented one. These races are a unique opportunity to check your driving skills on one of the most famous racetracks in the world.
During Tourist Days, the same rules apply as on any other public road. These days, race fans, collectors, and just looky-loos flock to the Nurburgring to chat and watch amateur racers, discuss race car innovations and rumors.
What are Track Days?
Track Days at the Nurburgring are organized by private companies for small events to improve the driving skills of their racers. They're also for professional racers and teams, driving tests, and club races.
The main advantages of Track Days are a limited number of participants (up to 100 cars), Open Pit Lane (fully open track), no license plate or public road permission limitations, as well as free photo and video shooting.
As we have already mentioned, you can take part in Track Day races on your own or in a rental car (you can use it on public roads without registration). Participation costs depend exclusively on the organizers but start at 499 euros (about $560 USD).
Can I get a racing license at the Nurburgring?
Only those who are official German residents can get a German racing license (German National "A" Racing License, to begin with) at the Nurburgring. If you are registered as a tourist, you cannot get any license.
To get the National "A" Racing License, you need to take a one- or two-day driving safety course (from 299 euros) and driving at the Nurburgring (driving academy, from 599 euros).
After that, you will receive a certificate of participation which, if positive, must be sent to the German Motor Sport Federation DMSB (Deutsche Motor Sport Bund). After receiving your application and it being reviewed, you will receive your license and can safely participate in national races (e.g. VLN).
How many laps does it take to become a racer?
This is one of the most frequently asked questions. Only your lap results will tell, which directly depends on the car and your driving skills (reeling, reaction, strategy, sober assessment of the situation, prolonged overloads, etc.). Moreover, you will have to pass an exam to get that license.
How and for what are lap times measured?
You need to measure your lap time to track the learning process and your progress. With the right approach, instructions, and reels, you will see that your average lap time will constantly improve.
A couple of months ago you were doing a lap in 12 minutes, and now you are doing it in 8 or 9. Now that's progress! Knowing the track and your car is vitally important.
You can measure time with all sorts of electronic devices and sensors. For professionals – Race Logic (a multifunctional GPS system with video recording functions for time control and acceleration). For enthusiasts – iPhone and various apps, e.g. Harry's LapTimer Pro.
How do you record? It's simple. The iPhone can be attached to the windshield and become your camera. After that, video recording starts with race track graphics overlap and GPS signal.
The program starts and stops automatically thanks to GPS, which allows you to record your lap time more precisely. After the race, the video with your results is saved and can be transferred to other electronic media.
What is BTG Nordschleife or BTG time?
BTG (Bridge-to-Gantry) is a racing venue in Germany with 54 lap times. This means that when you drive on Tourist Days, the lap time is measured from the first bridge after the start to the last one.
This is due to the fact that on Tourist Days, a direct section of the track from "Döttinger Höhe" to "Antoniusbuche" (where the track entry and exit are located) is not accessible for continuous driving without leaving the track (after one lap you have to leave the track and show your ticket again).
Accordingly, leaving the track you lose a lot of time before entering (barrier), which does not fit your lap time. Therefore, it was decided to measure the time from the first Antonius Buche bridge after the entry to the last bridge, before the Döttinger Höhe.
All these functions are already included by default in the Harry's LapTimer Pro app, mentioned above. When you start your race, the program will automatically start measuring the time from the first bridge to the last.
During Track Days, the track section from "Döttinger Höhe" to "Antoniusbuche" is fully open. This makes it possible to measure the whole lap time (Nürburgring lap times), from and to the starting line on the "Hatzenbach" section.
What is a Cup car?
A Cup car is designed for use on a racetrack in various series or Track Day races. Cup cars can be mass-produced or modified in special companies, specialized in assembling such modifications for auto racing.
Typically, Cup cars have a lightweight body (carbon fiber panels), aggressive trim (front spoiler, extended wheel arches, sills, diffuser, anti-fender), safety cabin frame, one or two racing seats, removable steering wheel, fire extinguisher system, modified powertrain, advanced brakes, and rigid suspension.
What is a Ringtool?
A Ringtool is a car that has been specially chosen for the racetrack, particularly for the Nurburgring. A Ringtool is also known as a Cup car. Such cars are mainly manufactured by small companies (ateliers) and individuals who buy a car and turn it into a Ringtool for Track Day races.
Basic Ringtool equipment includes race suspension, safety frame, advanced racing seats, tires, and brakes. The car is fully customizable for racing (suspension adjustments, bodywork improvements using body kits, dynamic performance improvements through increased engine power, etc.).
What is VLN or Nürburgring Endurance Race Series?
The VLN or Nürburgring Endurance Race Series is the German National Championship in circuit racing which takes place in 9 stages since 2017 (10 stages until the end of 2016) on the Nürburgring Nordschleife.
Best Time to Visit the Nurburgring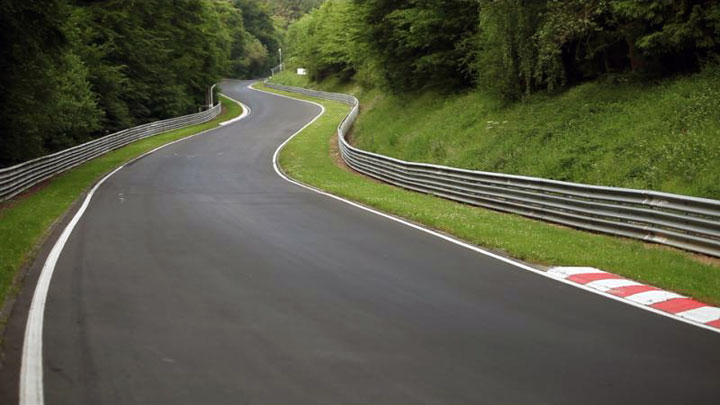 The Nurburgring is best from spring to fall, namely March to November. In winter, the track is not suitable for any racing events due to bad weather conditions. Seasonality also affects races on touring and track days.
Be extra cautious if it's raining, has recently rained, or if rain is expected shortly. You may even want to postpone your lap session until things dry out. If you're on a bike and this will be your first time on the "Ring", don't risk it and just wait another day. No matter what gear or motorcycle parts you have, it's just not worth the danger in wet conditions.
Racing Series Types
There are several well-known racing series every year. Cult and most popular races are considered to be the most popular: 24-hour Nurburgring, DTM, Blancpain GT Series, ADAC GT Masters, and Nürburgring Endurance Race.
Hotels to Stay In
The main complex of the Nürburgring includes two comfortable race hotels with bars, restaurants, fitness rooms, saunas: Lindner and Dorint. All the rooms are equipped to meet the standard and appeal to their coziness.
The price of a double room with breakfast starts from 120 euros (about $135 USD). Alternatively, you can also choose private hotels located near the complex and the track (3-5 km). The price of a single room per day in such cozy hotels is 50 – 60 euros (breakfast included).
Conclusion
Start small. Play Gran Turismo. Sign up for a driving academy at the Nurburgring. Enhance your lap time with an instructor on the track. Learn your perfect line, braking points, and apex points. Make your races more varied with cars of various classes. Read the right literature.
You will need a lot of time and patience to do this. Practice as much as you can, and the result will be visible soon enough. Do it over, over, and over again. Respect the Nurburgring and remember, it does not forgive mistakes.
As we have mentioned earlier, this is not a classic open race track where, from one point, you can see a few turn combinations and build your strategy in advance. It's all about blind turns that you have to learn and be prepared for any force major situations.
Author Bio

Dale Lomas is a car guy who runs the largest unofficial Nürburgring fansite on the web (

BridgeToGantry.com

). He is also a racer and instructor and considers the Nürburgring Nordschleife his office.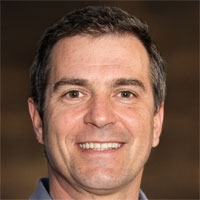 Latest posts by Mark Stevens
(see all)