11 Best Automotive Scan Tools (for Home and Professional Use)
Note: This post may contain affiliate links. This means we may earn a small commission for qualifying purchases at no cost to you.
Sometimes you just want to know what's wrong with your car without having to go to the dealership or repair shop and paying their ridiculous diagnostics fee.
What most people don't realize is that a good scan tool is actually easy to use and doesn't have to be expensive (many pay for themselves after just one use).
Here are our favorite automotive scan tools (most of which we've personally used), broken down by models for "home use" and "professional use."
Skip to >> Best Professional Diagnostic Scanners
Best Automotive Scan Tools for Home Use
Not everyone needs the most comprehensive scan tool available. Whether you're a DIY mechanic or looking to troubleshoot a few vehicles to make a few bucks on the side, these are the scan tools you're looking for.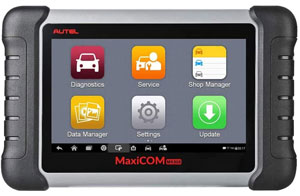 If you're looking for a scan tool that can do it all, then the Autel MK808S is the perfect scan tool for you. Now with bi-directional control, it's one of the most cost-effective scan tools out there. It works with 150+ different car makes and models. Not only will it read all engine, PCM, TCM, ABS codes, and more, but it has multiple other functions that display live data as you troubleshoot.
Furthermore, this Autel scanner provides detailed reports that let you know the most likely cause of a problem. Even better, it has over 28 of the most popular service functions that make it easier than ever to repair vehicles.
These features include ABS bleeding, battery registration, oil resets, injector coding, and so much more. While the price for this Autel scanner is on the higher side for an at-home scan tool, the extra features that it comes with more than makes up for the added cost.
The Autel MaxiCOM MK808S also comes with a 1-year warranty and 24/7 customer support. However, the yearly updates to add new vehicles and download the latest troubleshooting guidance costs just under $125. However, you don't need to purchase these updates to continue to use all of the same features you've been using all year! Software updates are now included free of charge.
If you're looking for an all-in-one scan tool that will put everything else in your garage to shame, this is what you want.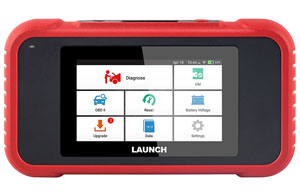 It's a more affordable version of the Autel scanner that we looked at above. While it has many of the same features, it doesn't work with quite as many vehicles. That's not to say it's lacking, though. It works with more than 57 car brands and over 10,000 different vehicle types.
Furthermore, it comes with live data tracking for up to 10 different data streams simultaneously. Moreover, it comes with multiple maintenance features from oil resets, TPMS resets, battery voltage tests, steering angle calibration tools, and more!
The Launch CRP129E supports nine different languages and has free lifetime updates! When you buy this scanner, you won't have to spend another penny to keep it working with the newest vehicles coming into the shop.
Of course, this scanner reads the engine, TCM, PCM, ABS codes, and everything else your vehicle could throw at you.
While the comprehensive features, free lifetime updates, and lower upfront cost are great, what really sets this scanner apart is the comprehensive 5-year warranty that it comes with. Make this the last scan tool you need to spend a dime on.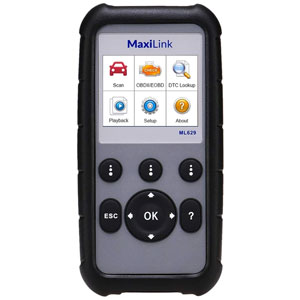 This Autel scanner is a much more lower-end option than the first one that we reviewed. While it comes with a much lower price tag, it also comes with far fewer features.
It works with any OBD2 vehicle, and it can pull codes and data in just a few seconds. Whether you're looking for your current emissions or you're troubleshooting a pesky ABS or SRS light, this scan tool can help you get the job done.
Despite its limited functionality beyond code reading, the Autel ML629 scanner does give you the ability to live stream from select input options. It's not as comprehensive as their top model, but at a fraction of the price, it's still a great deal. Even better, unlike their top model, the ML629 scanner comes with free updates for life!
Finally, this scan tool comes with a 1-year warranty giving you a little extra peace of mind that you're getting a quality product.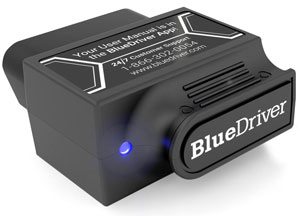 The world has moved to mobile devices; why shouldn't your scan tool? While this OBD2 scanner doesn't look like much on the surface, when you pair it with their mobile app, you get a comprehensive vehicle diagnostic tool that can help you fix any vehicle.
It works great with both Apple and Android smartphones and tablets, but if you have an older phone that can't handle the app, you're out of luck.
Not only does this comprehensive scan tool give you your engine code, but it also connects you to an extensive database that automatically generates repair reports to help you fix your vehicle.
With the BlueDriver, you get free app updates, the ability to screenshot and save data easily, and the ability to interact with live data graphs to help break down the problem.
The best part about this forward-thinking scan tool is that it's significantly cheaper than some other models out there.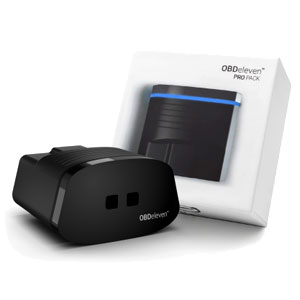 If you drive a Volkswagen, or any other VAG (Audi, Seat, Škoda, etc.) vehicle and love doing repairs yourself, the OBDeleven PRO Pack should be at the top of your list for a scan tool.
This Bluetooth diagnostics tool has many advanced features fit for professionals, but it's small, easy-to-use, no matter your skill level. You can easily diagnose car computers and customize vehicle comfort features.
This tool is compatible with Android, iOS, and Harmony mobile devices and provides an in-depth list of functions. The OBDeleven is capable of accessing a wide array of vehicle DTCs and offers the ability to perform a number of diagnostic tests.
Tech-savy users will find the OBDeleven PRO Pack useful when attempting to validate repairs and relearn certain automated vehicle functions. This unit also allows users to access numerous dealer specific menus where you can customize your vehicle's default settings (which isn't possible with other diagnostic scan tools).
It's an excellent tool if you have a Volkswagen Group (VAG). For other car brands, OBDeleven also offers a standard edition which is less feature-rich but has the same diagnostic and feature customization capabilities.
In addition, the tool now covers most BMW series* including E (from 2008), F, G, and I as well as MINI (F-series) and select Rolls-Royce models.
* The chassis code page at Turner Motorsport will show you which series each BMW model falls under.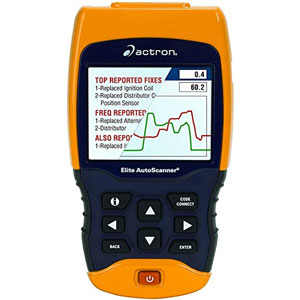 While we focused our efforts on OBD2 scanners for these reviews, that doesn't mean we don't recognize that older vehicles have codes too. Standardized OBD2 codes didn't become mandatory until 1996 before that OBD1 was the standard.
This scanner reads both OBD1 codes for GM, Ford, Chrysler, and Toyotas. From there, it reads codes for all newer OBD2 vehicles.
While this scanner looks simple, don't let that fool you about what it can do. Just like the fancier looking scan tools, this scan tool can display live data from over 300 different sensors and inputs throughout your vehicle.
Furthermore, you can freeze frame data to take the extra time to pull all the information you need to troubleshoot a vehicle properly. The Actron CP9680 easy to use, does everything you could ask for, and doesn't cost a bundle.
If you're working on older vehicles in addition to newer ones, you want a scan tool that can handle it all – this one can.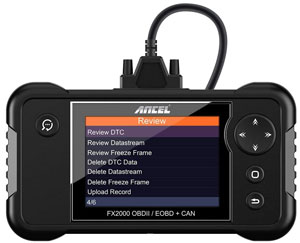 This scan tool provides tons of great features for a fraction of the cost of some of the more expensive scan tool models out there. The tradeoff is that it doesn't cover as many vehicles.
While it covers any post-1996 US-made vehicle, it only covers vehicles produced after 2002 from the EU and 2005 from Asian countries. It does support eight different languages, and if you're only using it on newer vehicles, it will do everything you could want and more.
It reads engine, ABS, SRS, and PCM codes and lives streams data from each of these symptoms to help you troubleshoot the problem. Additionally, it can run emission tests on your vehicle to help you pass smog or emission tests.
Not only do you get a great deal on the scan tool up front, but with free lifetime updates, they aren't nickel and diming you down the road either.
While the Ancel FX2000 only works on some vehicles after 1996, it will still read basic engine codes for any vehicle with an OBD2 system. However, you will not be able to utilize live data streaming or other advanced features.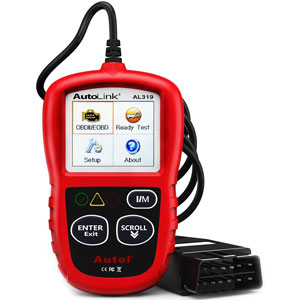 If you're looking for a low-end scan tool that can read your engine codes and freeze frame limited data, this might be what you're looking for. It's a 10th of the price of the top Autel scanner we looked at, but it also has a 10th of the features.
It only reads check engine codes and won't give you any troubleshooting advice beyond the code name and description. But if you're a competent mechanic and don't mind scrubbing a few forums for more complex issues, then this OBD2 scanner will be more than enough to get you started.
This scan tool works with all vehicles made in the United States after 1996. For European vehicles, it works with vehicles produced after 2000. If the vehicle has an OBD2 system, this scan tool will work at reading the codes.
Finally, the Autel AL319 scanner comes with a 1-year warranty, but most simple scan tools like this last much longer.
See Also: What Does a $7e8 Code Mean?
Best Professional Car Diagnostic Tools
If you're working in a shop, you need a scan tool jam-packed with features. That's precisely what these scan tools provide.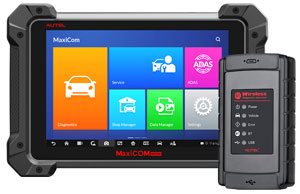 The Autel MK908 is a top-of-the-line scan tool that does everything you could ever dream of. This bi-directional diagnostic tool works with over 80 different vehicle models, reads every code available, and performs a wide array of maintenance functions.
Whether you're looking for a standard engine code or need to read a BCM, PDM, EPS, or any other vehicle module, this scan tool can handle it. It provides maintenance functions for ABS bleeding, pump testing, engine oil resets, and so much more.
Moreover, it gives you the ability to live stream data from various sensors and freeze-frame that data for easier troubleshooting.
The Autel MaxiCOM MK908 works wirelessly from up to 755 feet away. Whether you're working on the other side of the shop or in the driver's seat, this scan tool can handle it. The biggest drawback to this scan tool is the upfront cost. But if you need a professional level scan tool, you can't go wrong with this one.
Finally, like all Autel scan tools, this one comes with a 1-year warranty, but you will need to purchase yearly updates to keep this scan tool up to date with all the newest vehicles.
This professional-quality OBD2 diagnostic scanner comes with everything you need to troubleshoot and repair every code that a vehicle can throw at you. As an added perk, it comes loaded with over 24 languages, so no matter where you are in the world, this scan tool can break everything down for you.
Like all the best professional scan tools, this Launch model comes with active testing capabilities and bi-directional data. This means you run ABS bleeding, gear resets, injector coding, and so much more with the touch of your finger!
While this scan tool is more expensive than the DIY options, it does everything an $8,000 Snap-On scan tool does for a fraction of the cost.
The Launch X431 V+ works with over 10,000 different vehicles and comes with one of the industry's best warranties – a five-year comprehensive warranty. No more worrying if this scan tool is going to make it through the first couple of years!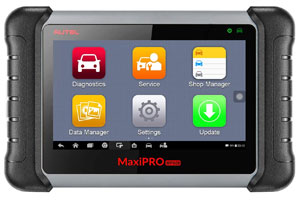 It's the most affordable professional-level scan tool that we found. While it's still more expensive than the home mechanic options, it's because it comes packed with more features.
The Autel MP808S can read any code that your vehicle throws at you and works with 99% of vehicles out there. You can check Autel's vehicle coverage tool to confirm your car is covered. Additionally, it comes with tons of features that any professional shop needs. From key programming to ABS bleeding, this scan tool does it all.
Previously, Autel required a paid subscription to update the software with new models and features. But now, updates are free of charge to be more in line with the competition.
This diagnostic scanners comes with a 1-year warranty, so you don't have to worry about getting a dud out of the box. Bang for the buck, it's hard to beat the Autel MP808S.
OBD2 Scan Tool Buying Guide
Finding the perfect OBD2 scanner for your vehicle can seem like a daunting task, and if you don't know where to start, it can be. Luckily for you, we'll walk you through everything you need to know to find the perfect scan tool for you.
Double Check Compatibility
The most important thing you want to verify when buying a scan tool for your vehicle is that it will work with your car. While most modern vehicles utilize an OBD2 system, some older vehicles use OBD1.
Take the little extra time to verify what your vehicle has and if the scan tool you're purchasing will work on it.
How Much Do You Know?
If you're looking at getting a cheap and simple code reader but don't know a thing about mechanics, it likely won't do you any good. On the other hand, some of the more expensive scan tools come with troubleshooting tips and advice from actual mechanics that can steer you in the right direction.
If you're looking at purchasing a scan tool to save a little money at the repair shop, make sure you're getting a tool that lets you accomplish those goals!
See Also: Top 8 GPS Tracking Devices for Cars
Frequently Asked Questions
We know there are tons of questions surrounding scan tools. That's why we answered some of the most common questions below to clear up any confusion!
What Can an OBD2 Scanner Do?
Basic OBD2 scanners only read engine codes. However, many scan tools come with OBD2 scanners built right in. That's why almost every OBD2 scanner out there has more features than a simple code reader.
Read Also: DTC P1000 (OBD System Readiness Test)
Do I Need a Code Reader or a Scan Tool?
While the two tools are often confused with each other. Scan tools provide much more information and data than a code reader. Code readers provide you with the basic code, but they don't give you anything else.
Scan tools on the other hand, provide a wide array of functions. They tell you the code, break down what the code means, provide live data streams, and often break down the most common cause of the code and how to fix it.
If you're a competent mechanic and know how to troubleshoot different codes than a code reader might be all you need. But a scan tool speeds up the process and ensures even the most competent mechanic that they're replacing or repairing the right part the first time.
Why Do Automotive Scan Tool Prices Vary So Much?
There are three main reasons that automotive scan tool prices vary so much: the scan tool brand, how many vehicles the scan tool works on, and the number of features on the scan tool.
The manufacturer is one of the biggest factors that determine the price of a scan tool. That's why Snap-On scan tools can cost close to $10,000, but they don't offer any more features or work on any more vehicles than most 1,000 dollar scan tools. Certain brands simply have a premium.
While other Snap-On tools may be worth their price, we've found some (namely Autel and Launch) pro diagnostic tools are just as good or very close to it.
From there, many scan tools only work on a select number of vehicles. If they don't work on pre-OBD2 vehicles they're often cheaper than those that only work on newer cars.
Furthermore, many scan tools offer diagnostic troubleshooting, wireless features, brake breed assist, and so much more. The more features a scan tool comes with the higher the price tag.
Are Car Diagnostic Scanners Universal?
Yes and no. While any OBD2 scanner can read engine codes on a vehicle with OBD2, that's where the universal functions stop. The diagnostic advice, maintenance features, and everything else only works on specific vehicles depending on the tool – even if it has OBD2.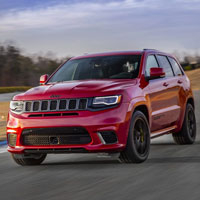 Latest posts by Adam Mann
(see all)