Conventional vs. Synthetic Blend vs. Full Synthetic (Motor Oil Comparison) 
The importance of quality motor oil cannot be overstated. But choosing the right oil for your vehicle can be confusing with all the options on the market today. Should you opt for conventional, synthetic blend, or full synthetic?
Here we'll break down the key differences between these three major oil types. You'll learn about each of their characteristics, typical oil change intervals, average cost, and at what point it makes sense to switch to a different type of oil.
Related: Top 10 Places to Buy Motor Oil
In this article we will examine the three different types of motor oils that you can select from for your vehicle's first and subsequent oil changes. We will learn which of these types might be the best choice for your car and driving conditions.
In all cases, if your car's manufacturer so states, use the oil brand, type and viscosity rating he recommends. In particular, if he provides a specific oil specification for your car, make every effort to use that type of oil. The type of oil used will not affect how long it takes to change it.
Look for the specification information on the label of the oil you purchase. The folks who built your car will know best how to prolong its life. Check out your owner's manual for this information.
More about oil viscosity and the benefits of selecting what's right for your vehicle can be found here.
Conventional Motor Oil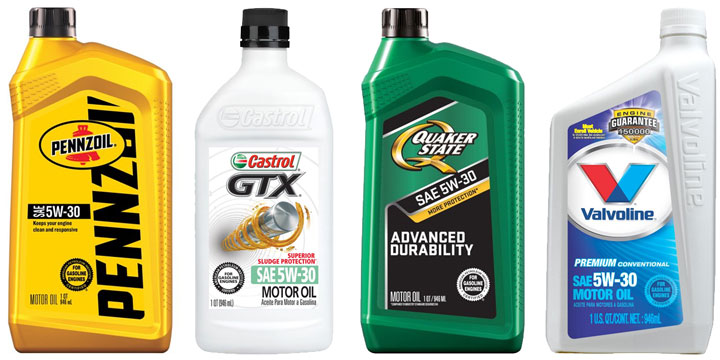 The conventional (non-synthetic) oils offered today are highly developed lubricants tested and proven over many decades. As such these oils can work perfectly well for the average car and driver.
Characteristics
Such lubricants are refined from crude petroleum stocks and then bolstered with a number of different additives. These additives help to keep internal engine parts clean, enhance lubricity, minimize the effects of moisture, keep contaminants in suspension and help the oil retain its viscosity over time.
Each of the major oil brands (e.g., Valvoline, Pennzoil, Castrol, Mobil, Shell, Amsoil, Redline, etc.) will have their own unique blend of additives. For this reason you may find a certain brand or brands that provide better fuel economy or quieter engine operation. Do not hesitate to take advantage of this knowledge.
Read Also: How to PROPERLY Check Your Oil
Between oil changes, replenishing with the same brand installed at that last change is best. However, occasionally adding a quart of an alternate brand will not materially damage your engine.
Conventional oils do have some disadvantages compared to synthetic blends or full synthetic oils. The variable viscosity in a multi-viscosity oil like SAE 10W-30 or 10W-40 will gradually degrade. Over time this oil will perform more like an SAE 15 oil due to shearing of the oil molecules during engine operation.
Other disadvantages include: engine fuel economy may be poorer; buildup of carbon and sludge deposits may take place and during extremes of engine operation accelerated wear of dynamic components may occur. This especially applies if you live in an area with exceptionally high summer temperatures.
Average Cost
The primary benefit of conventional oil is that it is the lowest in cost of all the motor oils. Pricing can range from about $3.00 to $7.00 per quart. Prices may be slightly lower online or at discount department stores.
Typical Oil Change Interval
Because conventional oil viscosity degrades over time, the useful life of this lubricant is not particularly long. This behavior essentially limits oil change intervals to as little as 3,000 to 4,000 miles.
See Also: 10 Signs You're Overdue for an Oil Change
Synthetic Blend Motor Oil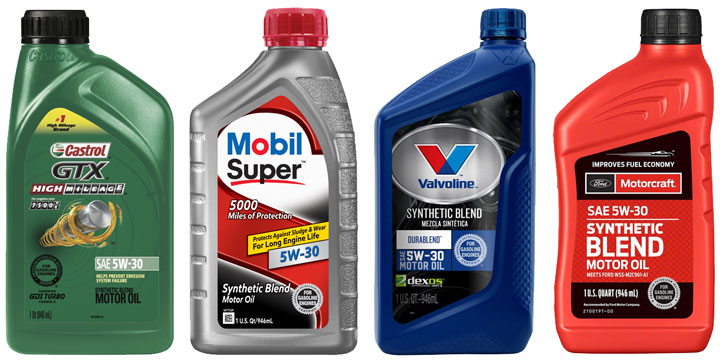 As this subheading implies, this type of oil is a blend of conventional motor oil and synthetic oil. The added synthetic oil is intended to help extend the useful oil life by improving its range of oil viscosity.
Characteristics
As with conventional oils, the blended (or semi-synthetic) lubricants include similar additives to improve oil performance. The somewhat disconcerting quality of this product is that the amount of synthetic added to the petroleum base will vary from brand to brand and may be as low as 30%.
No standards dictate the blending proportions for this product. And oil refiners closely guard their formulations. For this reason there is no concrete way to determine what you are getting for your money.
Some measure of the other synthetic benefits accrue to the blended oil. These include slightly better fuel economy; reduced risk of sludge and carbon buildup and improved high temperature performance.
Average Cost
Regarding cost, synthetic blend oils sit right in between the cheaper conventional oils and the full synthetic types. Expect to pay between $4.00 to $7.00 per quart for this type of lubricant.
Typical Oil Change Interval
With respect to oil change interval, plan to get no greater service life than you might with conventional oils. This is applicable because not knowing the blend ratio provides no guidance regarding the hope for an extended period between oil changes.
Related: 4 Common Oil Change Scams To Be Aware Of
Is Synthetic Blend Oil Worth It?
Based on the nature of this product there is little to recommend its use vs. conventional motor oil.
Full Synthetic Motor Oil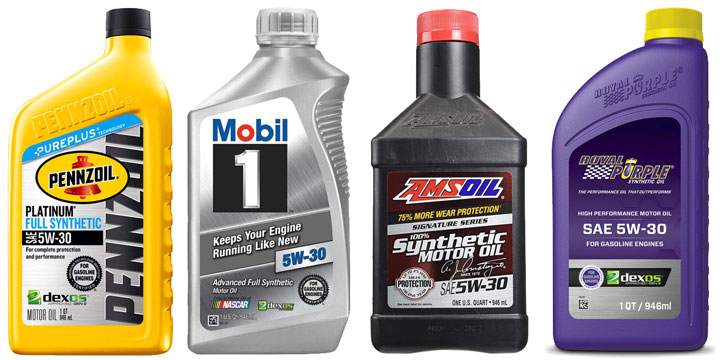 The last and most costly of the three, synthetic oil promises a host of benefits. But the 'full synthetic' terminology is misleading. And there are no standards regarding the refining of this lubricant.
In this respect full synthetic motor oil is somewhat similar to the blended oil discussed above.
Characteristics
Synthetic oil is manufactured in several different ways. Some synthetics use a petroleum base stock which is highly modified to enhance its qualities.
One manufacturer begins with natural gas as the base stock promising a more pure end product. Others begin with truly synthetic base stocks derived from several man-made chemical compounds.
As with the other oil types, additives enhance performance, but the synthetic qualities of this lubricant greatly benefit in four areas:
First, these oils by nature are of lower viscosity than conventional oils. This reduces internal friction losses which enhances power and improves fuel economy.
Second, this low viscosity characteristic is more effectively retained throughout the full temperature range of operation. Thus one blend, for example, an SAE 0W-40, can be used both summer and winter. Ease of starting in the cold, excellent cold engine lubrication and very effective lubrication at the highest of temperatures are all attained with full synthetic oil.
Third, synthetics also are not prone to lose their variable viscosity qualities over time like conventional lubricants. They contribute to very low carbon and sludge buildup. Plus the lower viscosity greatly enhances the ability of synthetics to cool hot internal engine parts compared to conventional or even synthetic blend oils.
Fourth, the long stable chain molecules of synthetic oils are able to sustain higher loads than conventional oils. This quality reduces internal wear adding life to any engine and may even help prevent LSPI.
The lower viscosity quality of the full synthetic oils and their enhanced slipperiness compared to conventional oils can introduce a minor problem in older engines. Thinner oil can pass through smaller spaces. Thus as a car ages, synthetic oil use can result in small oil leaks cropping up.
Some mechanics advocate switching to conventional oil if this occurs. From my perspective, occasionally wiping up a few very small puddles of oil in the garage is a small disadvantage vs. the enhanced engine life that accrues with these lubricants.
If your car's engine is turbo-charged, synthetic oil is essential. The very high temperatures inside a turbocharger demand this oil type to avoid damage to the turbocharger's extremely hot shaft and bearing(s).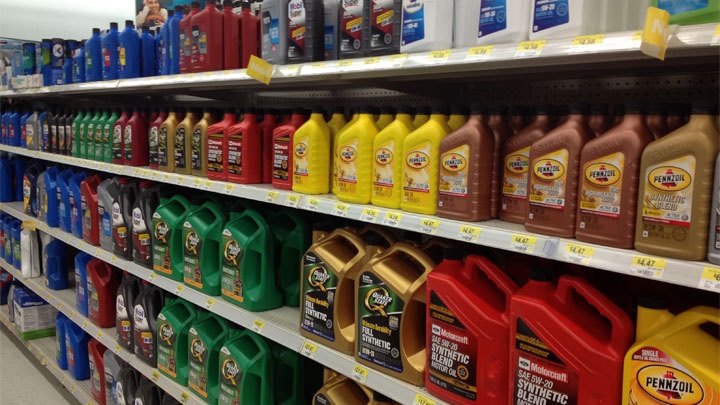 Average Cost
The cost factor will have to be considered by some. Full synthetic engine oil prices can range from $8.00 to $12.00 per quart. Online procurement may be one of the best options to keep prices low, as is purchasing 1-gallon jugs at a time.
See Also: Best Motor Oils for High Mileage Vehicles
Typical Oil Change Interval
Due to this oil's enhanced performance, oil change intervals can be extended. Some oil manufacturers indicate intervals of up to 15,000 miles between changes are possible.
I'd suggest caution in this regard. This distance may exceed the ability of an oil filter's capacity for contaminants.
Comfortable intervals between changes could range from 6,000 to 7,500 miles if a high capacity oil filter is also installed with each change. And if your car came from the manufacturer with full synthetic oil in the crankcase, that auto builder's recommended oil change interval should be followed.
Is Synthetic Oil Worth It?
Hands down synthetic motor oils are far better than conventional and blended types. In every respect, engine life and performance are enhanced.
The higher cost of these oils will be offset by longer engine life. This will be an excellent payback if you intend to own your car for many years.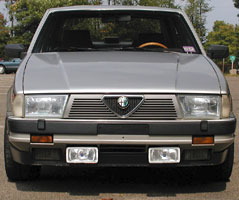 Latest posts by Ron Coddington
(see all)