7 Best Windshield Repair Kits (for DIY and Professional Repair)
Note: This post may contain affiliate links. This means we may earn a small commission for qualifying purchases at no cost to you.
Of the many parts on your car that can take damage easily, the windshield is one of the most fragile and expensive. Storms and heavy vehicles in front of you can chip the surface, and once a windshield cracks, it will continue to spread.
Until recently, the only way to fix a damaged windshield was to fully replace it, but thankfully, we now have methods of repairing many forms of damage. The following products can be used to repair many rock chips and cracks.
We've separated the best windshield repair kits by the inexpensive kits for DIY repair and the more costly professional kits for commercial shops and mobile windshield repair businesses.
Related: DIY Windshield Scratch Repair
Best
DIY

Windshield Repair Kits
#1 – Rain-X 600001 Windshield Repair Kit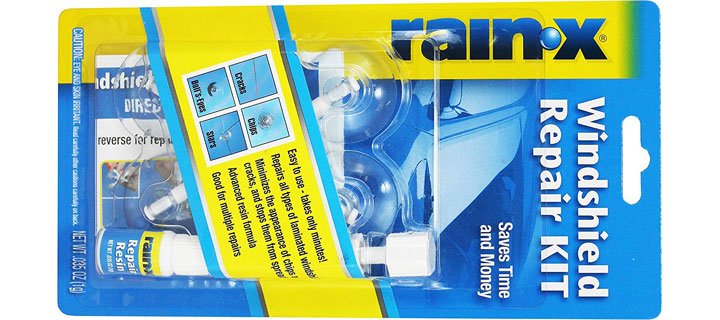 Using an advanced resin formula, the Rain-X windshield repair kit can stop spreading cracks and greatly reduce the visibility of cracks, chips, and other blemishes. It's designed for chips smaller than one inch in diameter and cracks less than a foot long on single layer windshields.
Simply apply to an uncontaminated (dry and dirt-free) blemish and the resin fills the space, removing air and strengthening the glass. Best of all, this crack repair kit works on all types of laminated windshield, removing the guesswork.
One of the best features of this particular kit is the way its resin won't cure until exposed to UV light. This means you have plenty of time to get the resin just right before exposing it to direct sunlight or another UV source. There's also enough for five to ten applications, making it easy to have some on-hand long after the initial job's completed.
Be very careful about putting too much pressure on the windshield during the repair process. You need to force the resin in, but too much pressure could worsen the crack or even break through the glass completely. Take your time and apply only as much pressure as needed for the best results.
See Also: Inside of Your Windshield Dirty? (Clean It the Right Way)
#2 – Blue Star Windshield Repair Kit
Lauded by many to be the best windshield chip repair kit on the market, Blue Star's professional grade resin can stop stone chips before they get worse. Easy to apply, the resin cures using UV light and prevents further damage.
This product is excellent for the intended purpose. The downside is that it's not designed for cracks and does a poor job with these. Overall, the kit can repair most small chips with little or no problems.
#3 – Permatex 09103 Windshield Repair Kit
When you want a more permanent auto glass repair kit, Permatex has the answer. The UV-cured resin can make airtight repairs to bulls-eye damage without the need for mixing on most laminated windshields. The kit includes easy to follow instructions with photographs, making repair jobs a cinch.
When faced with smaller cracks or chips, this product works quite well, although users suggest giving it a longer curing time to be safe. Be warned, however, that the applicator is designed for single use only, so you will need multiple applicators if you have more than one rock chip or crack.
#4 – Bamoer Auto Windshield Repair Kit
This easy to use kit from Bamoer is an excellent choice for repairing a slightly chipped or cracked windshield. It can be used for most types of outer glass and will repair chips, cracks, or spider webbing under 12 inches long or one inch in diameter. Designed for long-term repairs, the resin is easy to apply and can stop damage from spreading.
Bamoer's kit works pretty well and is slightly cheaper than similar products. It has a decent amount of success, although a few users have complained the applicator doesn't provide enough force for their needs.
Best
Professional

Windshield Repair Kits
#1 – Delta Kits EZ-250S Windshield Repair System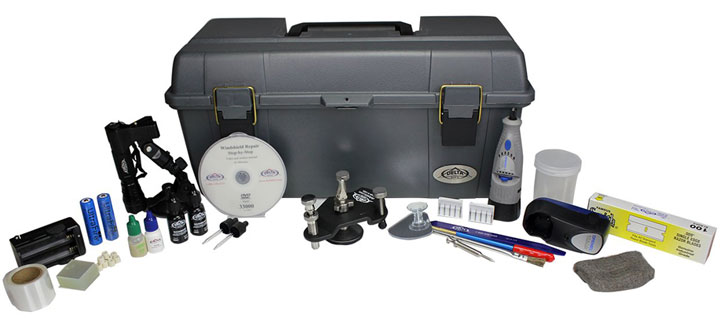 Containing everything you need for a high-quality repair, the Delta Kits EZ-250S is perhaps the best professional windshield repair kit for the money. It includes a stainless steel screw-type injector, rechargeable UV lamp, and enough resin for approximately 100 repairs. Also included are:
acrylic inspection mirror
carbide burs (.039 and .047)
centering tool
chip brush
cleaning jar
curing tape and tabs
Dremel tool
glass droppers
hydrophobic coatings
industrial strength razor blades
nylon stick
pit polish
slide hammer
steel wool
Finally, the addition of a comprehensive training DVD means this can be a great kit whether you're a seasoned pro or plan to start your own business.
This is an excellent kit and has just about everything necessary for a great job every time. You may wish to add a drying gun to the kit to make it more complete. Also, note that the plunger isn't spring-loaded. This gives more control but can also take longer when performing larger repairs.
See Also: Moonroof vs Sunroof – Which is Better?
#2 – Clearshield Professional Auto Glass Repair Kit
Containing enough supplies for over 200 repair jobs and a complete tool set, the Clearshield windshield repair kit allows you to do professional-grade repairs right from your garage. The cordless UV light, Dremel, and set of 20 carbide drill bits mean you won't have to wait for a sunny day and can easily clean out damaged spots. This is the same equipment used by Clearshield technicians.
For a professional level kit, this is also perfect for beginners. The training video is easy to follow, and the results are better than many similar kits out there. Note that this kit isn't designed for complicated repairs. Also available in larger kits covering 500+ or 1000+ repairs to keep business costs down.
#3 – Tri Glass TRI 15 Essential Windshield Repair Kit
This professional kit from Tri Glass not only includes a Tri Glass bridge, UV lamp, and resin, but also a Dremel with two bits and a 1/16 inch collet. Additional equipment includes: a thin pit sealer, pit buffer, pit polish, inspection mirror, suction cup lube, shop cloth, acetone container, mylar tabs, hook scribe, and small O-rings. A training DVD ensures you achieve professional results.
When you need a kit that has everything necessary, this is a great choice. You'll need to invest in some acetone, but otherwise you can get started straight out of the package. On the rare occasion there's an issue with the hardware, Tri Glass is quick to remedy the problem.
FAQ
How Does a Windshield Repair Kit Work?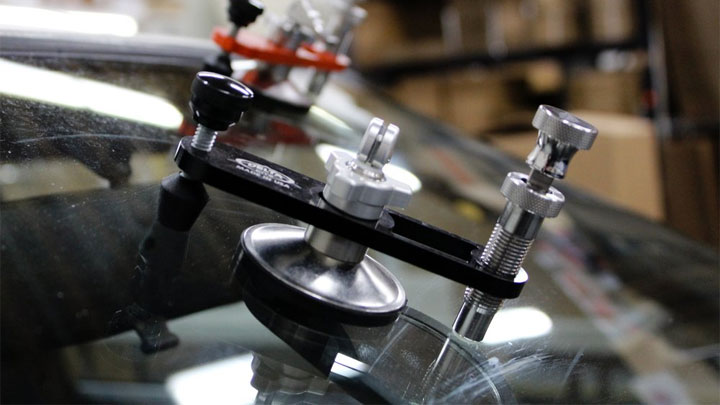 It's a common misconception that windshield repair kits completely heal the damage.In reality, they don't actually fix the glass so much as they function like stitches and a bandage. These repair kits use a specially formulated resin that bonds with your windshield's glass to provide a strong seal against particles that can further widen cracks.
The DIY kits are very basic and are good for quick patch jobs but might not hold up to more difficult issues. Professional kits are often used in conjunction with expensive tools, and a skilled repair may include drilling holes or other complex steps.
Professional level repair tends to last longer and look better, but there will still be times when replacing the windshield becomes necessary.
Read Also: 4 Reasons Your Wipers Don't Return to the Home Position
Windshield Repair vs Replacement – Which to Choose
Deciding between repairing and replacing is a lot more involved than simply looking at a price tag.
Age: The older the damage, the less repairable it becomes. This is due to the accumulation of dust and other particles which may not be cleaned out easily. When you've had that untreated crack for a while, it's better to just replace the whole windshield.
Driver vs Passenger: Repairing damage on the driver's side is usually a bad idea. Even repairing a minor ding can cause distortions in the glass that affect the driver's view. Such issues are not as important on the passenger's side, however.
Edge vs Center: Damage located near an edge or corner is much harder to repair than towards the middle, This is especially true of cracks that reach the edge, as these can easily worsen over time.
Legal Limitations: Many states have restrictions over what types of windshield damage may be repaired. These most often involve obstruction to the driver's view but may depend upon other factors as well. When in doubt, check it out.
Size: Repair kits are like Band-Aids. You can use them to patch up smaller wounds, but a big gash or hole will need more serious medical attention. Remember, Band-Aids don't fix bullet holes.
Read Also: How to Properly Cover a Car Window
How to Use a Windshield Repair Kit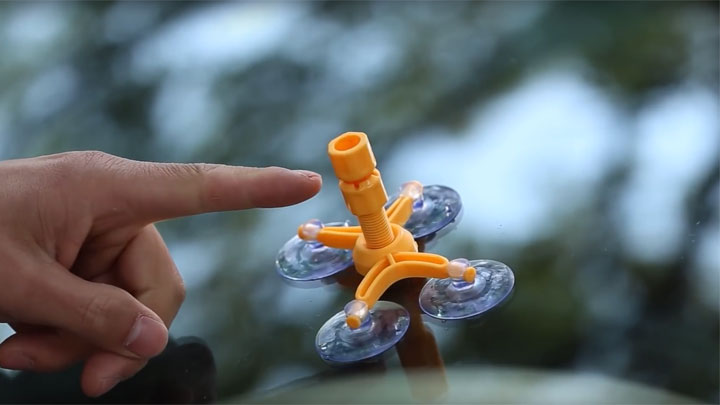 Most windshield repair kits use the same steps, all of which are pretty easy to follow. Before beginning, ensure the windshield is cool and the damaged area is clear of moisture or debris. Alcohol wipes are an excellent tool for cleaning the damaged areas.
Be sure to wear goggles and gloves, as the resin chemicals can leave nasty burns.
In a shaded area, mix the resin (if necessary).
Using the applicator, carefully force the resin into the damaged area. Be careful not to use too much force or you could damage the area further.
Apply the curing strip over the damage and move the vehicle so the windshield has direct sunlight.
Allow to cure for a minimum of 20 minutes (depending on the kit's instructions). You may choose to leave the resin to cure an additional five to ten percent longer.
Peel off the curing strip and gently scrape away any excess resin.
Will a Windshield Repair Kit Work on a Mobile Phone Screen?
This is a popular misconception that might have proven true on older phones. Newer smart phones such as iPhones and Androids are touch sensitive, meaning any resin on the screen itself will ruin the phone.
That's not to say you can't use the resin on other parts of the phone where there are no controls or other sensitive parts are located. It is likely this myth is left over from the days of flip phones where the screen was not touch sensitive and therefore more forgiving towards repair attempts.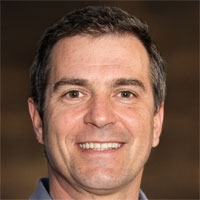 Latest posts by Mark Stevens
(see all)